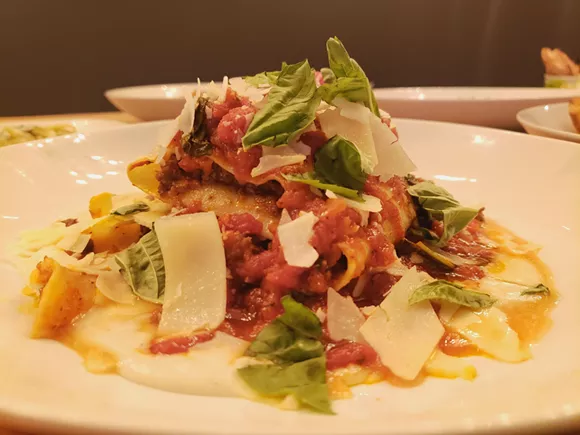 Holly V. Kapherr
One-noodle lasagna with bechamel, beef bolognese, mozzarella, Pecorino and ricotta.
The last several years for the corner lot that now houses
Sette
– Italian for "seven," natch – are basically a blur. A veritable parade of concepts set up shop, briefly shone (or didn't) and then closed.
Now,
the new Italian restaurant from Se7en Bites Bake Shop owners Trina Gregory-Propst and her wife, Va,
whom Trina describes as "the brains behind the deliciousness going on in the kitchen," will officially open for business on March 22. Reservations at 1407 N. Orange Ave. are currently open by calling 407-704-7771.
Notice the plethora of 7s; we're betting they aren't an accident.
We got to sample several of the dishes on the spartan menu – this is a good thing, if you understand how restaurants work – and man, they are tops. Well-seasoned, well-executed, logical presentations (a blessing these days), and not a rosemary sprig to be found.
Of course, it's simple enough to pull off perfect dishes when you're serving free food to a bunch of hangry, underpaid journalists (and City Councilwoman Patty Sheehan, who showed up later for moral support and to, adorably, feast on the cold leftovers while gushing about how insanely yummy they were. "Just imagine them hot and not half-eaten, Patty," we said). But considering the crowds they cook for on brunch days, I'm betting they'll have it down to a science in no time.
Holly V. Kapherr
Arancini (fried risotto balls) with gorgonzola, fig, prosciutto and pesto cream sauce.
A couple of notes:
1. While the craft cocktails on the back of the menu are tempting (and many are delicious — don't miss the Ol' Blue Eyes, likely the most Instagrammable drink of 2019), Sette is offering a very good wine list with full bottles at approachable prices, mostly under $60. Also, the beers on offer range from down-the-street brews from Ivanhoe Park Brewing Co., as well as rare Italian large-format beers from the brand, 32.
2. There is finally a restaurant in town that hand-makes all the pastas (below) on the menu, and it's Sette. Also, the pasta is vegan. That's right, flour and water. No egg. I tried the linguine that came with an eggplant parm stack and the one-noodle lasagna and found the pasta delightful. Toothsome and substantial. Who'da known that paste we made as kids could be so delicious!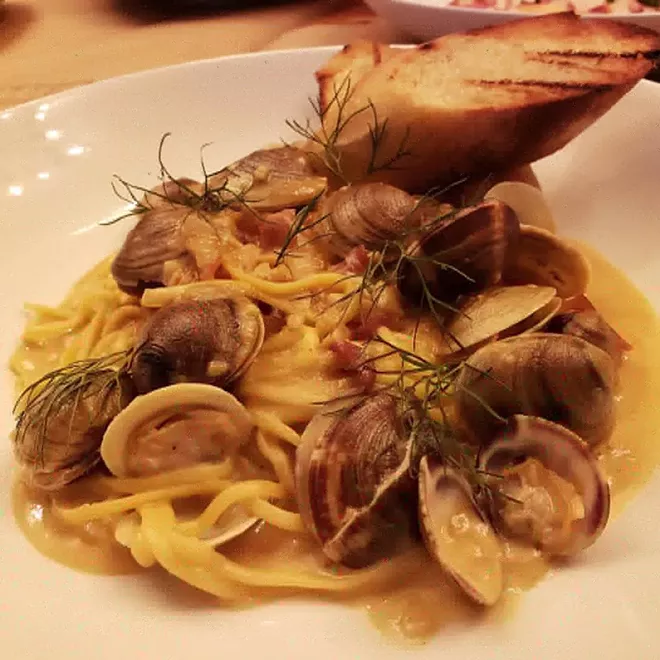 Holly V. Kapherr
Clam linguine with littleneck clams, pancetta, fennel and lemon-white wine sauce.
3. Of course the desserts were always going to be delicious. Anyone who has downed a gigantic oatmeal creme pie, or mega-Oreo, or slice of chocolate Guinness cake at Se7en Bites knows that was inevitable. But this is truly not a time to skip dessert. We tried three different desserts, and they were all very good, though I hope Trina amps up the espresso flavor on the tiramisu semi-freddo a bit. The olive oil lemon cake (below) will likely be one of the best bites of a sweet you'll eat all year, frosted with lemon-mascarpone buttercream and laced with perfectly sweet-tart lemon curd. Our table was served four slices, and by the end of the night, only a precious few perfect crumbs remained.
Holly V. Kapherr
Lemon olive-oil cake with rosemary lemon curd and lemon mascarpone buttercream. I'll be having this cake for my birthday from now until I no longer have birthdays.
4. The sleeper on the menu is the Sausage and Grapes appetizer, an Umbrian speciality that dances on the palate and wakes up each taste receptor area of the tongue. The correct way to eat this dish (yes, there is a "correct" way, I say) is to skewer both a grape and a morsel of sausage on your fork at the same time, and pop the whole thing into your mouth. Don't think; just do it.
Our guess is that reservations are going to be pretty hard to come by for the first few weeks, so I would normally advise to get on the horn and reserve your spot ASAP, but if my instincts are correct, Sette will be around for a long time to come.
So many restaurants, so little time. Find out the latest dining news every Friday morning with our weekly Food + Drink newsletter.