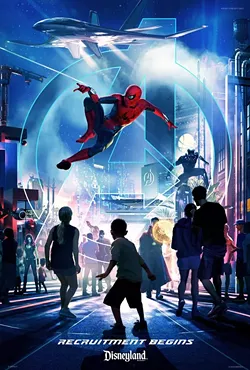 Concept art via Disney Parks Blog
A poster for the upcoming Marvel land at Disney California Adventure
Lately, all the news has been on Disney's latest big buy, Fox, but the company is still far from finished with their previous purchases.
Just last year, the company opened new lands themed to Pixar, which the company purchased in 2006, in Orlando and California. Lands based on Star Wars, which the company acquired in 2012, are now readying to open in those same resorts.
Now with Pixar and Star Wars finally being used to their full potential the company is looking at another acquisition for inspiration in its parks. Since purchasing Marvel in 2009, Disney has been working overtime to pump new life into the brand. New Marvel attractions are
now in the works
at Disney parks worldwide, even in Orlando, where the company has barred from using many of the most popular properties thanks to a Marvel contract with Universal that pre-dates Disney's purchasing of the brand.
In California,
a new
Marvel-themed land has been rumored for years with Disney acknowledging the project last year. Now new details regarding the California project, a new Marvel land in Paris, and the Marvel re-theme of Hong Kong Disneyland's Tomorrowland have now all been confirmed by the company.
In a
recent blog post
on the Disney Parks Blog, Scot Drake, Creative Executive, Marvel Global Portfolio explains:
"The Avengers are setting up new Headquarters and training facilities around the globe to inspire all potential recruits willing to step up and become something more. As part of this global initiative, Tony Stark has founded the Worldwide Engineering Brigade – or WEB for short – to develop advancements in super-powered technology, including new enhancements to Spider-Man's suit as their debut project. By bringing together the world's brightest young inventors, the WEB is creating new interfaces that will empower all of us to join the ranks of Earth's Mightiest."
The Worldwide Engineering Brigade, or WEB, is a Tony-Stark backed group that helps explain why the different Marvel characters will be seen in a single location. This lines up with previous rumors of
a greatest
hits of Marvel with new experiences based around Spider-Man, Dr. Strange, Ant-Man and the Wasp, Black Panther, and others.
The area already has a Guardians of the Galaxy-themed drop ride. The new Spider-Man ride could possibly be using the swinging ride system that the company patented a while back.
Previous rumors
of a microbrewery, stage show, and walk-through attraction all still seem likely.
WEB will also be used as the overarching theme for the
new Marvel land
at the Walt Disney Studios park in Paris.
The
Paris plans call
for stunt show, an Iron-Man redo of Rock 'n' Roller Coaster, and what looks to be an Ant-Man themed restaurant, possibly similar to the microbrewery rumored for California. A
Marvel art-themed hotel
is also in the works for Disneyland Paris. That hotel will be a re-theme of a section of the resorts' Hotel New York.
Photo courtesy of Disney Parks Blog
The Hong Kong Disneyland Marvel themed Tomorrowland
In Hong Kong, WEB has been replaced with Stark Expo, but the concept remains mostly the same. An Ant-Man shooter ride will replace Buzz Lightyear, while a new Avengers ride is also in the works. In 2017, an Iron Man-themed motion simulator and a temporary
Dr. Strange-themed Marvel walk-through
attraction, viewed as a possible proof-of-concept, opened in the park.
While most of the attractions will likely never be realized in Orlando, thanks to that
Universal contract
, a few characters are allowed at Walt Disney World. A new Guardians of the Galaxy ride is currently under construction at Epcot, and Dr. Strange has previously had a meet-and-greet
at Hollywood Studios
. In those cases, and others like the Marvel-themed gift shop at Disney Springs, the name Marvel is not used.
The Epcot attraction will open before 2021 with the Marvel lands in California and Paris opening around that same period.
An updated Spider-Man costume was also unveiled in the recent announcement. That updated costume is already in use in meet-and-greets at Disney California Adventure.

Get our top picks for the best events in Orlando every Thursday morning. Sign up for our weekly
Events newsletter.