Jen Cray
Hurricane Party at Lil Indies
THIS LITTLE UNDERGROUND
Hurricane Party, Lil Indies, April 13

When you merge two artists like
Bleubird
and
Rickolus,
who aren't just credentialed but also interesting, the results could be exponential. Well, that cross-Florida collab,
Hurricane Party,
is winding up and bringing heat.
Jen Cray
Hurricane Party at Lil Indies
Even though his many years of distinctive work have earned him 24K street cred with the indie-rap cognoscenti and a spot on the vanguard roster of groundbreaking hip-hop label
Fake Four
(who recently released the
landmark solo debut
of Orlando star
E-Turn
), Ft. Lauderdale luminary Bleubird continues to be one of the
most underheralded MCs alive.
Still, despite being perennially underrated, he continues to blaze his singular trail with style and flair as one of the preeminent and most original rap voices to come out of Florida.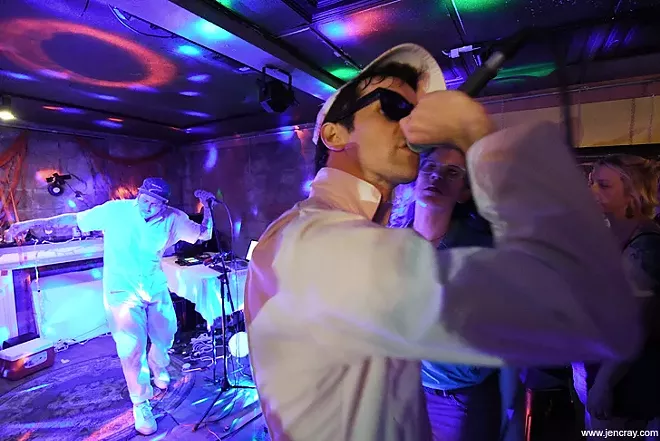 Jen Cray
Hurricane Party at Lil Indies
Jacksonville Beach's Rickolus is the intriguing X factor. Although he's got credits in the same alt-rap galaxy with releases on Fake Four and other collaborations with heavyweights like
Astronautalis,
he's a somewhat chameleonic alt-pop singer, musician and producer.
Jen Cray
Hurricane Party at Lil Indies
Together, this relatively new cross-genre act is a chemical reaction that bridges rap and song in a way that crashes the hip-hop frontier with the kind of
mischievous party splash
that makes cats like
Buck 65
seem like bookish squares.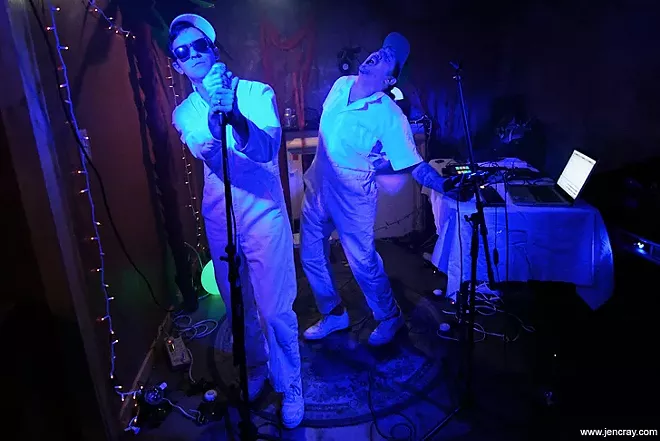 Jen Cray
Hurricane Party at Lil Indies
With a range of reference wide enough to go from 1980s pop to trap, Hurricane Party is a postmodern explosion that rains down like neon confetti. And they are
Florida as fuck,
oozing our essence and terroir in all its dazzling cliché like a hip-hop
Miami Vice.




Jen Cray
Hurricane Party at Lil Indies
Although Bleubird's greased cadence and Rickolus' smooth croon attack at different angles, they share a precision of comedy and charisma, making them ideal foils for each other in this audacious enterprise to shatter boundaries.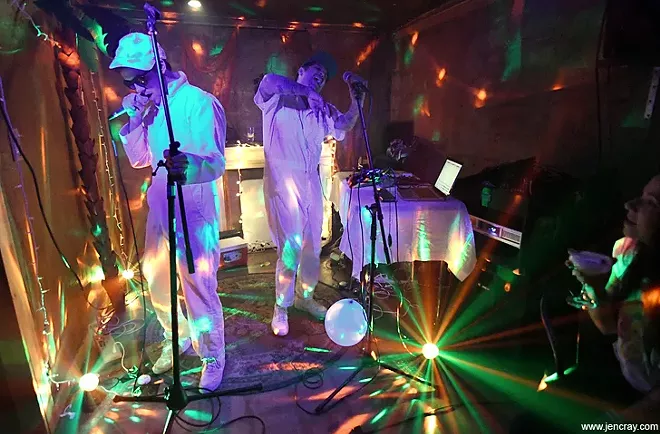 Jen Cray
Hurricane Party at Lil Indies
Jen Cray
Hurricane Party at Lil Indies
Combined, these
left-field party-starters
are the intersection of humor and smarts, swag and art. By the third song or so, they had the room uncorked and dancing along. Splitting sides and shaking asses, Hurricane Party show that being the class clowns and being the cool kids are not mutually exclusive.
Fortunately, Hurricane Party play Orlando with decent frequency for non-locals. But definitely watch for their next swing through because their upcoming new album (
Juice
) is slated for release early June on
Limited Fanfare Records
(the dope Miami label that just unleashed the
Sh-Booms' latest opus
) so they'll be back for July release shows in Orlando and their respective hometowns.
Follow Bao on Twitter (@baolehuu)
Email Bao: [email protected]
Get our top picks for the best events in Orlando every Thursday morning. Sign up for our weekly
Events newsletter.