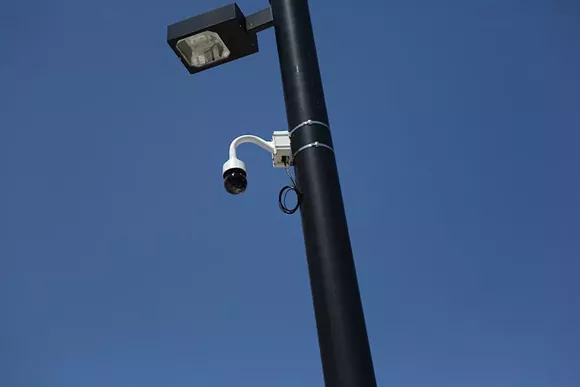 Photo by Joey Roulette
A surveillance camera in downtown Orlando.
Another Florida law enforcement agency wants to use real-time facial recognition, a powerful technology currently being tested in Orlando as a surveillance system.
The Pinellas County Sheriff's Office is looking for a company willing to provide "real-time facial searching capabilities from live surveillance cameras," according to a formal request the agency closed on Monday.
Real-time facial recognition, which can be used with live video feeds to automatically spot and identify anyone walking in the view of public surveillance cameras, was one of over a dozen requirements listed in the request seeking information to build a "Facial Recognition System."
Using live face-scanning surveillance would be a reversal for
Pinellas County Sheriff Bob Gualtieri
, who in January characterized it as "the controversial use of facial recognition" during a presentation to Florida lawmakers on the House Criminal Justice subcommittee.
Gualtieri told the committee that PCSO used a live facial recognition system about 15 years ago at a local airport that enabled surveillance cameras to scan all travelers in real time and "run them for warrants checks and other intelligence."
"We stopped it. I want to be clear with that," Gualtieri added. "I don't think it's the right thing to do."
Less than a month later, PCSO would tap the private sector for ideas on how to build "the future design, construction strategy and project development for a 'Facial Recognition System'" that includes as a minimum specification the ability to run real-time searches using live surveillance feeds.
"That information was put in the RFI inadvertently," PCSO spokesman Spencer Gross told
Orlando Weekly
after this story was published. "We're actually going to have it removed."
Gualtieri's office already hosts the largest single facial recognition database in the U.S., called
FR-Net
. Pinellas deputies – as well as over 230 partnering agencies in Florida – use FR-Net to run photos of unknown suspects against a database of over 25 million identified faces pulled from criminal and non-criminal sources like driver's licenses, mugshots and federal IDs.
The Orlando Police Department is in its second phase of a pilot program with Amazon Rekognition, a brand of real-time facial recognition surveillance plugged into 10 street cameras in the downtown area. City officials have said the program is only being tested and not used in an investigative capacity.
Live facial recognition is powered by machine-learning algorithms whose accuracy to detect and identify faces is as accurate as the number of photos you train it with.
Amazon, perhaps the largest company selling facial recognition, took heat from civil rights groups in recent months over Rekognition's accuracy. A
study
done by MIT's Media Lab examined face software from Amazon, Microsoft, IBM, Face++ and the Florida-based company Kairos and found that Amazon's brand performed the worst, more accurately identifying light-skinned males over dark-skinned females.
There are currently no laws in Florida governing law enforcement agencies' use of facial recognition, let alone accuracy requirements for the increasingly competitive group of companies selling their software to police.

Stay on top of Orlando news and views. Sign up for our weekly Headlines newsletter.