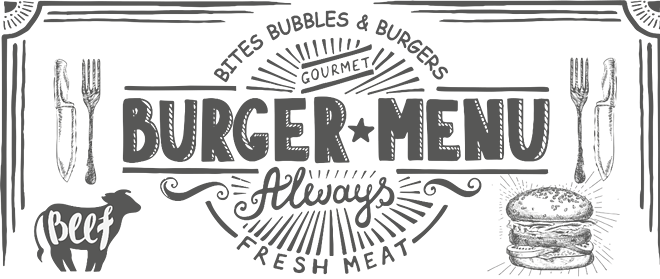 Graphic via Bites & Bubbles
You can order champagne and caviar and various French-inspired plates at Bites & Bubbles, which is great and all, but sometimes (especially as you're tripping through the Mills Avenue bar scene), what you want is just a really great burger.
Well, now Bites & Bubbles has you covered there, too.
Photo via Bites & Bubbles/Instagram
A duck-fat infused beef burger with caramelized onions and Raclette cheese on a brioche bun.
We can't say for sure if it was taking part in
Orlando Weekly
's inaugural
Burger Week
earlier this year was the impetus, but they've put together a lengthy menu of their specialty duck-fat burgers (see below), which will henceforth be available every night. We predict some extremely happy meat-eaters.
Here's the deets:
All American Burger: American cheese, lettuce, tomato, pickle, onion.

Caprese Burger: Fresh mozzarella, lettuce, grilled tomato, basil pesto sauce.

Raclette Burger: Caramelized onions, Raclette cheese, tomato, lettuce, pickle, special sauce.

Breakfast Burger: Bacon, fried egg, tomato, double Gloucester cheese, special sauce.

Blue Cheese Burger: Maytag blue cheese, bacon, caramelized onions.

Smoked Duck Burger: Sliced smoked duck breast, Raclette cheese, caramelized onions.

Patty Melt: Bites & Bubbles version of a classic. Marbled rye bread, Raclette cheese, caramelized onions, special sauce.

Truffle Burger: Humboldt Fog Truffled Goat Cheese, caramelized onions, grilled tomato, lettuce, special sauce.
So many restaurants, so little time. Find out the latest dining news every Friday morning with our weekly Food + Drink newsletter.