The trailer for the upcoming Florida-set summer horror flick
Crawl
premiered today on YouTube, and quickly amassed more than 5 million views. But we think a good chunk of that view count must be from Floridians watching it over and over again to try and figure out just what in the everlovin' Sunshine State is going on here.
The film from Paramount Pictures, directed by Alexandre Aja (
High Tension
) seems simple enough: A Category 5 hurricane comes through and a young woman named Haley Keller (Kaya Scodelario,
Skins
) and her dog stop by her dad's (Barry Pepper,
Saving Private Ryan
) place to pick him up, only to find that there's a killer alligator stalking them. Hijinks ensue.
But hold on. Here's a shot of an official, presumably the governor, telling Floridians to evacuate.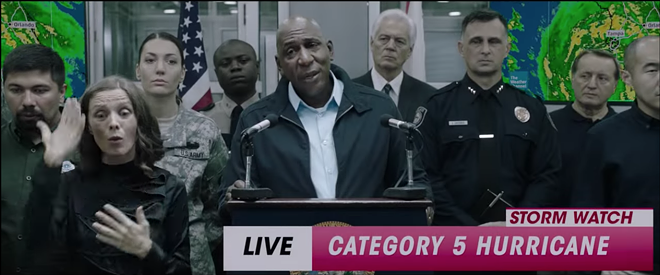 Courtesy Paramount Pictures
But the fictional governor isn't even wearing a Navy hat to let people know it's a real emergency! Right, Rick Scott?
Photo by Joey Roulette
"Right!" – Rick Scott, presumably
And then after that, the Floridians actually evacuate! There's not one shot of a leatherbound native in front of a Publix saying "Well, we're just gonna wait it out like we always do," which is ridiculous because those clips are basically public domain by now, right?
Then there's the matter of building materials used in the Kellers' neighborhood. Wood?! In South Florida?! And the back of Papa Keller's pickup clearly indicates that he owns a construction business, meaning he should know better. Whatever happens next is clearly his own fault.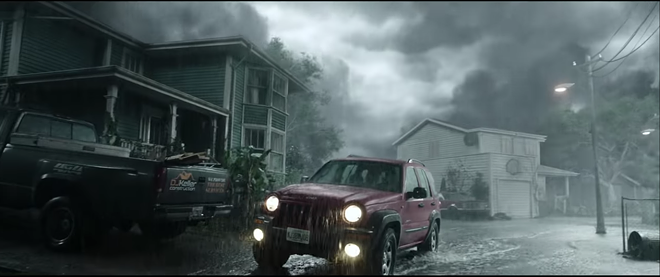 Courtesy Paramount Pictures
Which leads us to the big one, folks. This wooden house in Florida, owned by a construction worker, somehow has a basement. A basement! We're actually guessing that it's going to be called a "crawlspace" due to the movie's title, but clearly no crawlspace has stairs leading down to it. Stairs = basement, and basements =/= Florida.
Also, this neighborhood looks really grim. Not one misguided hurricane kegger going on in the area? Doesn't sound very Floridian to us. (Production notes on
IMDB
indicate the movie was filmed in Belgrade, Serbia. Could this travesty of Floridian misrepresentation be the thing to spur Florida's Legislature to finally address film incentives for production companies to shoot in Florida?)
Courtesy Paramount Pictures
And to top it all off, it looks like none of the characters even attempt to flip the gator over and rub its tummy, which we all know is the easiest way to put a gator to sleep. (This is probably wrong, please don't try this.) And the gator appears to throw a hapless rescue worker into the air at one point, when we all know that a gator's preferred method of dispatching its prey is the dreaded "death roll," where it pulls you underwater and lets your non-water breathing lungs do the hard work of killing you rather than its jaws.
So are we gonna go see it? Well, yeah, duh, of course we're gonna go see it; it's basically
Jaws
set in Florida. But we're going to be nitpicking the entire time.
Courtesy Paramount Pictures
They really won't though.
Get our top picks for the best events in Orlando every Thursday morning. Sign up for our weekly
Events newsletter.