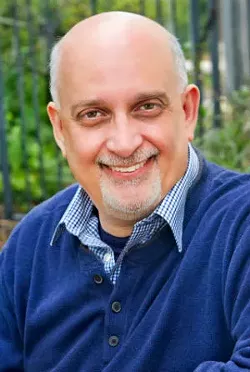 photo via Florida Film Critics Circle
Jay Boyar, 1953-2019
For Central Floridians of a certain age, the name Jay Boyar will always be synonymous with film criticism. He was the movie reviewer for the
Orlando Sentinel
at a time when the trade was at its Ebert-driven zenith. Locally, Boyar both benefited from and helped fuel that renaissance. He liked to say he could remember when an Orlando critic had to drive to Tampa to take in a press screening of a
Star Wars
movie; from there, he became what we now call an influencer. His critical opinion could get an interesting film brought to our market, and took on a commensurate status among the
Sentinel'
s readership.
(He also came up with the best response I have ever heard to that hoary complaint every critic has to weather, "If you don't like a movie, I know I will": "So you liked
Battlefield Earth
?")
Boyar, who passed away May 3 at the age of 65, loved movies. Good movies. He would sit with you and chortle endlessly over favorite routines in Woody Allen classics. Among his many related interests, he was also a keen aficionado of stand-up and sketch comedy. And as someone who had worked at Marvel Comics in the 1970s, his opinions of modern superhero culture were passionate and closely observed.
He was also a devoted family man. A look of genuine admiration would come over him when he mentioned his son, whom he described as intelligent and interesting – a person he just plain old enjoyed talking to.
Jay eventually left the
Sentinel
, in one of those corporate-downsizing maneuvers that was dignified only because he was determined to keep it so. Afterward, he wrote for a variety of local publications,
including this one
. He authored books and continued to teach on the college level. Nurturing emerging voices was important to him.
I myself benefited greatly from his largesse. When he stepped down from the Florida Film Critics Circle, an organization he himself had co-founded, he graciously suggested that I take over as chairman. When I elected to go to grad school instead, he even more graciously wrote me a letter of recommendation. That kind of patronage was above and beyond the norm: Sad though it is to report, film criticism, like much of journalism, has a way of attracting out-and-out jerks who think they can get away with being awful to one another simply by pretending it's what the job requires.
Jay was a gentler man, definite in his boundaries but inherently kind and compassionate. To put it plainly, he was made of better stuff. And we are all of us the poorer for its loss.