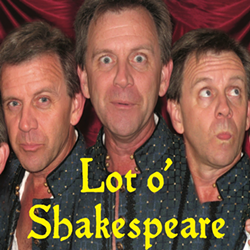 Your typical actor probably has a Shakespearean monologue or two in their back pocket, just in case an unexpected audition opportunity pops up. Tim Mooney is far from your average actor: he's not only memorized a soliloquy from every single play ascribed to Shakespeare, but a half-dozen of his sonnets as well. And in
Lot o' Shakespeare
, the longtime Fringe performer puts his impressive mental party trick to good use with a breakneck blitz through many of the Bard's best-loved speeches.
Don't expect any narrative thread from this theatrical equivalent of a clip episode, but you may come away with some exciting prizes, since the performance is patterned after a game of BINGO (or IAGO, in this case). Mooney's show order is randomly determined by plucking balls out of a basket, and if you're the first to match four in a row on the provided game card, you'll go home with a T-shirt or script book. Even if you don't win, you can still get in on the act with some read-along dialogue and other low-impact audience participation. (And if your preferred play isn't popping up, Mooney isn't above a bit of bribery.)
Mooney's selections range from some of Shakespeare's most famous scenes — Hamlet's "To be or not to be" speech is appropriately assigned to ball B2 — to some seriously obscure ones, like the bitter banquet toast from
Timon of Athens
. The fast-paced format doesn't allow for a lot of subtlety, servicing the shoutier monologues (like Henry V's sword-slinging St. Crispin's Day speech) and comic scenes (such as a darkly hilarious harangue from
Titus Andronicus
) at the expense of more subdued emotions.
However, Mooney is a master at conveying a character not merely through polished diction, but by embodying his entire physicality, from Richard III's withered arm to Falstaff's ample waist. So even if you don't understand every iota of Olde English iambic pentameter, Mooney's interpretations make his meaning clear. It's been a decade since Mooney — who has probably performed more shows at the Orlando Fringe than nearly any artist — first performed
Lot O' Shakespeare
here, and it's still an entertaining and accessible hour for Bard-lovers and the verse-adverse alike.
Lot o' Shakespeare
Timothy Mooney Repertory Theatre
Buffalo Grove, IL
BYOV Breakthrough Theatre of Winter Park
Ages 7 and up
60 minutes
$12
Thursday, May 16th 10:00 PM
Saturday, May 18th 6:50 PM
Wednesday, May 22nd 8:25 PM
Thursday, May 23rd 6:50 PM
Sunday, May 26th 9:20 PM