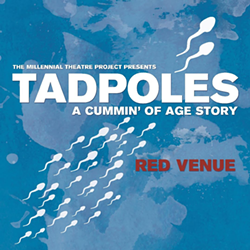 Welcome to the Pro-State, where spermatozoa kill time dining at BJs or working at the Siemens power plant while awaiting the next orgasmic earthquake, in hopes that it might propel them across the Golden Bridge and past the evil IUD monster into a new existence. Steve, the new gamete in town, is shown the ropes by Chad, a Crossfit-obsessed dudebro, and Don White, an elder sperm who spouts prophecies about a "chosen one." When Steve falls in love with Amber, the most attractive piece of tail in the jizz pool, will they form twin zygotes together, or be taken down by the sinister Ovarian Sisters?
Think of
Tadpoles
as a live-action, R-rated answer to Epcot's old Cranium Command, lubed up with every adolescent spooge reference the Farrelly Brothers ever rejected. With that kind type of raw material, this "cummin' of age story" has more than enough spunk to make a quickie comedy worth coming to. Unfortunately, this scattershot show literally blows its wad in the first five minutes, reaching a silly-string climax in the opening scene that the following 45 fail to live up to.
The play is packed with plenty of puerile procreation puns, self-referential Fringe jabs and the odd dubstep dance number, leading to some lascivious laughs. But between the cheesy props, clumsy fight choreography and suspect sex-ed facts, there simply isn't enough substance here to sustain the entire running time.
Tadpoles
suffers from more exposition than actual action, and the sloppy scene changes make the sluggish pacing feel even more masturbatory, which kills comedy quicker than nonoxynol. The ending makes an eleventh-hour attempt at sentimentality, but by that point I was searching for a Kleenex to wipe up this mess.
Tadpoles: A Cummin' of Age Story
The Millennial Theatre Project
Orlando FL
Red
Ages 18 and up
60 minutes
$12
Wednesday, May 15th 10:00 PM
Friday, May 17th 9:15 PM
Saturday, May 18th 10:30 PM
Tuesday, May 21st 10:30 PM
Thursday, May 23rd 9:00 PM
Saturday, May 25th 11:00 PM