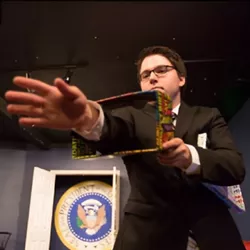 Some people dismiss magic tricks as nothing but dime-store gimmickry, while others equate it with an excuse to lie for profit. But for Cody Clark, illusions are a way to express his honest self without being mocked for it. Clark is open with his audiences about his autism, but there's much more to this up-and-coming young magician than being neuroatypical.
For his new production,
The Origins of My Magic
, Cody reframes some of his favorite tricks as metaphors for his formative influences, from Lance Burton and Dolly Parton to
Mr. Rogers' Neighborhood
and cheesy motivational speakers. Clark's sleight-of-hand manipulations of cords and playing cards are convincing, especially when you consider how spectrum disorders can sometimes inhibit fine motor skills. Moreover, his mentalism effects — which appear to rely on reading subtle emotional cues — are even more impressive.
While Clark's family-friend tricks might not be all that flashy, his witty, self-aware script made me laugh out loud more than once. It's been a couple of years since Clark made his first Fringe appearance, and watching him grow into a self-assured stage illusionist has been one of the great pleasures of recent Festivals.

The Origins of My Magic
Cody Clark Magic
Louisville KY
Red
60 minutes
$12
Thursday, May 16th 6:00 PM
Saturday, May 18th 2:30 PM
Monday, May 20th 8:00 PM
Thursday, May 23rd 6:15 PM
Friday, May 24th 8:00 PM
Sunday, May 26th 3:00 PM