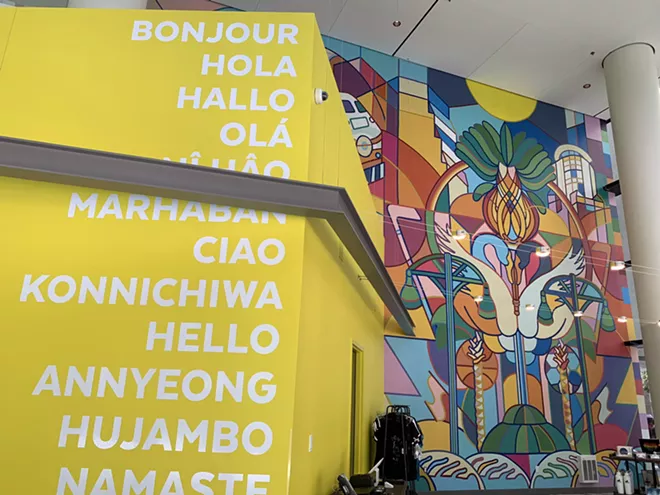 photo by Clarissa Moon for Orlando Weekly
A mural by local artist Boy Kong is 30 feet tall.
The Downtown Orlando Information Center will reopen this June with a new name and a new mission. Discover Downtown will still be located at 201 S. Orange Ave., but the newly refreshed center will feature a retail space featuring local artists and vendors, Orlando-based publications and reference guides, and an area for business and networking events.
"We felt like we needed a new identity after more than 10 years," says Thomas Chatmon, the executive director of Orlando's Downtown Development Board. "We didn't want [just] 'renovate and decorate,' we really wanted to be imaginative."
Discover Downtown will have a soft opening on Monday, May 20, at 10 a.m. The official grand opening will take place in June.
photo by Clarissa Moon for Orlando Weekly
Shoppers can choose between a female swan, Queenie, or a male, Buddy, at the info center's shop.
"We always gear towards all people coming in here, but we continually have people coming in from all over the world," says Rose Garlick, the manager of the information center. "And now we want to expand our programming to the locals."
The renovated center also features a 30-foot-high mural by local artist
Boy Kong
, whose work includes the
Pegasus mural
outside the UCF Student Union and the zodiac wall inside Quickly Boba.
According to Chatmon, the center plans to illuminate the mural at night so it will be visible to those passing by.
Discover Downtown's store will operate with a cashless system, and City of Orlando employees will receive a 20 percent discount. A shopper can drop by to pick up postcards with a print of Lake Eola, a children's
book
by local reporter Lisa Bell or plush swan toys.
Among the local vendors featured is the the online retailer
Swan City
, which sells graphic tees, hats and prints.
"Our brand is all about Orlando," says Andrew Chang, the owner and founder of Swan City. "Making sure that people have a different identity outside of tourism."
photo by Clarissa Moon for Orlando Weekly
Discover Downtown visitors will be able to fill in the coloring wall.
The event space features a coloring wall designed by local designer
Anna Cruz
. Visitors will be able to take home their own version of the piece, and the center plans on changing out the wall periodically.
Stay on top of Orlando news and views. Sign up for our weekly Headlines newsletter.