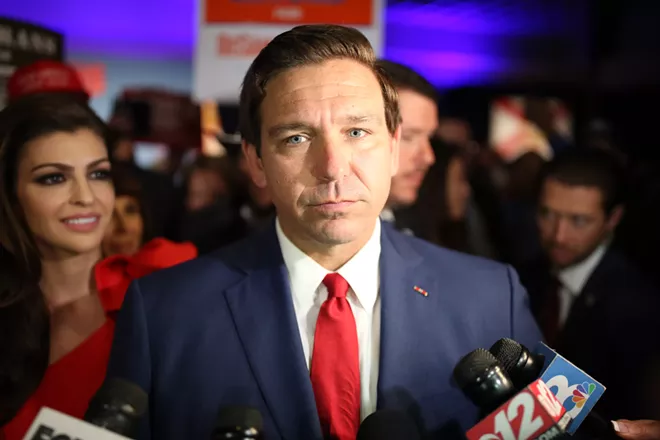 Gov. Ron DeSantis' status as a "green" governor is officially up for debate.
On Friday, DeSantis signed a bill – the Multi-use Corridors of Regional Economic Significance, or M-CORES – that requires the state to build two new toll roads and extend a third toll road through rural parts of Florida, according to a
press release
from Senate President Bill Galvano's office.
"Infrastructure is more than traditional transportation elements including roads, bridges, seaports and airports," says Galvano, R-Bradenton. "Infrastructure also includes utility and communication resources that provide access to clean water and reliable broadband connectivity. I am grateful to Gov. DeSantis for partnering with the Florida Legislature to embrace an innovative approach to infrastructure that will enable Florida to strategically plan for future population growth."
Galvano, who defied environmentalists' immediate, swift condemnation of the proposal when it first bubbled to the surface early last month, also claims the project will protect "
our unique natural resources
" (our emphasis, not his), as well as address the Sunshine State's growth and need for added infrastructure, provide new hurricane-evacuation routes, expand bicycle and pedestrian trails, lay the groundwork for new water and sewer lines, and provide added access to broadband internet in rural areas.
The proposal consists of three toll roads: an extension of the Suncoast Parkway from the Tampa Bay area north of the Georgia border; an extension of the Florida Turnpike west to connect with the Suncoast Parkway; and the construction of an additional transportation corridor, including a toll road that will stretch from Polk County to Collier County. It calls for spending $45 million next fiscal year, with that amount increasing to $90 million in the 2020-2021 fiscal year, to about $135 million the following year, and then a recurring amount of $140 million starting in the 2022-2023 fiscal year.
A large portion of the land proposed for development is within Taylor County, and most of it is owned by the state's richest man, Thomas Peterffy, who's worth an estimated $18.5 million according to an estimate from
Forbes
.
Orlando Weekly
previously reported that during the 2018 election cycle, Peterffy donated $310,000 to DeSantis' campaign for governor.
The proposal requires the Florida Department of Transportation to initiative a task force to study the project's potential economic and environmental impacts. It calls for construction to begin with the end of 2022 and for roads to open by the end of 2030. The project has been endorsed by the Florida Chamber of Commerce, Florida Ports Council, the Florida Trucking Association and the Asphalt Contractors Association of Florida. (Go figure.)
However, the left-leaning advocacy group Progress Florida, as well as a number of other environmental groups and activists across the state, has dubbed the project the "Billionaire Boulevard," chalking it up as a political payback for major landowners and development interests and describing it as "one of the biggest land grabs in decades, threatening large swaths of natural Florida in the process" in a petition drive in April.
Since taking office in January, DeSantis – who describes himself as a "Teddy Roosevelt conservationist," a reference to the president who created the U.S. National Park Service – has earned the endearment of environmentalists, with his keen interests aimed at combating Florida's water quality issues.
In January, on just his third day in office, DeSantis signed an eyebrow-raising executive order calling for $2.5 billion for Everglades restoration over four years, the highest level of funding for Everglades restoration in the state's history, his office claims; the Department of Environmental Protection to "adamantly oppose" offshore drilling and fracking in Florida; a blue-green algae task force; two new government offices that'll concentrate on "environmental accountability and transparency" and "resilience and coastal protection"; and a chief science officer to handle climate concerns.
But, it seems, everything that glitters isn't gold – or more accurately in the case of Florida's so-called environmentally-friendly governor,
green
.
Stay on top of Orlando news and views. Sign up for our weekly Headlines newsletter.