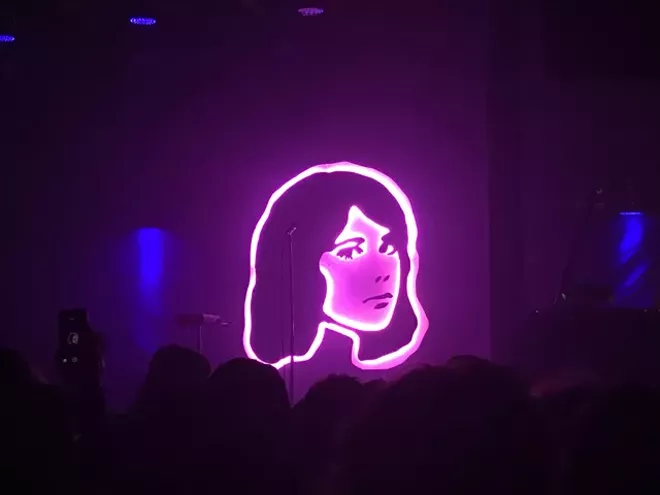 Bao Le-Huu
TV Girls at Soundbar
THIS LITTLE UNDERGROUND
TV Girl and Yohuna, Soundbar, May 15

West Coast indie-pop band
TV Girl
sure know how to light up a room. Well, yeah, there were good actual lights at their Orlando concert, but their music and mien are what set this absolutely packed house aloft on a party cloud.
Bao Le-Huu
TV Girls at Soundbar
Bao Le-Huu
TV Girls at Soundbar
Working the nostalgic palette of
Saint Etienne
with the playful funkiness of the
Avalanches,
these three indie bros recontextualize and remix 1960s pop effervescence like
beat junkies.
Beaming with bright color and chill breaks that kick much more live than on record, their jams are a tailor-made cocktail for good times.
Bao Le-Huu
TV Girls at Soundbar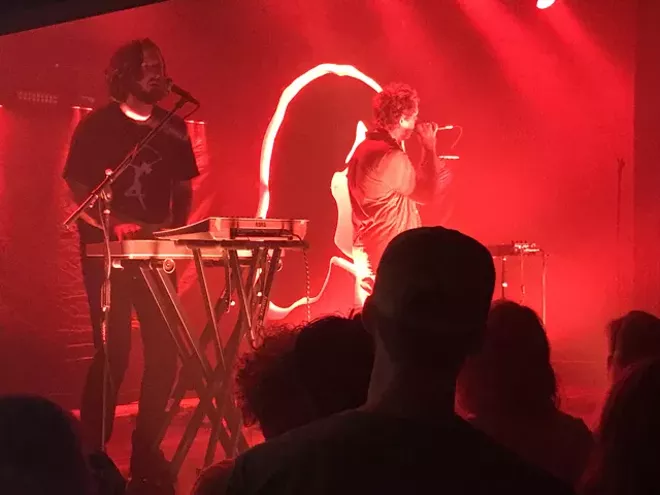 Bao Le-Huu
TV Girls at Soundbar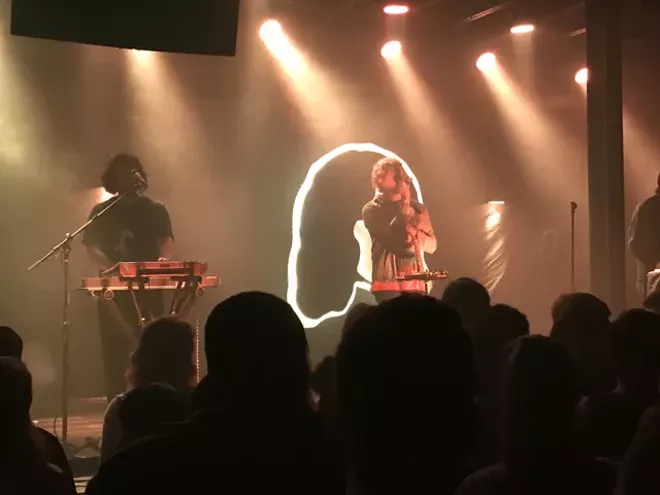 Bao Le-Huu
TV Girls at Soundbar
Bao Le-Huu
TV Girls at Soundbar
On stage, their performance was lively and frontman Brad Petering's banter was comedic poetry. Shake it all up together and they had everyone cooling out in the same sparkling pool.
Brian Vu
Yohuna
Much more sedate and earnest, but no less good, was the opening set by
Yohuna.
Besides being a phonetic spelling of the correct way to pronounce her first name, Yohuna is the nom de plume of itinerant American songwriter and producer Johanne Swanson.
Although her performance was simpler and more sober than the party boys of TV Girls, it was a generous advance of her forthcoming album
Mirroring,
which doesn't officially drop until June 7 on
Orchid Tapes/Fear of Missing Out Records.
It's a record to anticipate because for this artist it's both a pivot and a real blossoming. It could even prove to be a threshold work for her.
Bao Le-Huu
Yohuna at Soundbar
On it, Yohuna emerges from her synth origins like never before with a conspicuously
wider sonic lens
and instrumental vocabulary that even stretches out to orchestral finishes. More fundamentally still, it's an album that shows off the growing confidence and lucidity of her
hooks.


Bao Le-Huu
Yohuna at Soundbar
But even if this economical solo set didn't quite capture her broad new instrumental horizon, it did showcase Yohuna's deepening melodic contours and the angelic warmth of her voice. Unlike many other slow-pop specialists, the airy altitude that Yohuna achieves is never in jeopardy of evaporating. And even though her drift is calm and reflective, it's never a bummer or, worse, a bore. Yohuna is making
indie pop of elegant introspection
that's speeding toward a point of crystallization and finesse.
Bao Le-Huu
Yohuna at Soundbar
Follow Bao on Twitter (@baolehuu)
Email Bao: baolehuu@orlandoweekly.com