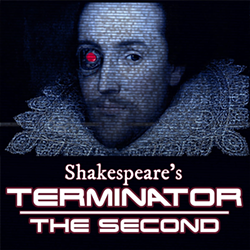 Hark, and attend well this tale of future woe, in which Skynet hath slain the human race as verily as Aaahnold murdereth the English language.
I might be biased because I worked on the Universal Studios attraction for several years, but I consider
Terminator 2: Judgment Day
to be James "King of the World" Cameron's crowning achievement, regardless of what
Titanic
and
Avatar
's box office receipts might say. So when I heard the crew behind 2018's hit
Shakespeare's Ghostbusters
were giving one of my favorite action flicks a Bard-based makeover,
Shakespeare's Terminator the Second
started setting off 'alarums' on my red-tinged radar.
Marshall Webber and Cody DeVos of Nashville's Husky Jackal created their script by editing together actual Shakespearean dialogue, only changing proper names and pronouns to fit the film's plot. That's a far more impressive feat than simply slipping 'thees' and 'thous' into a screenplay, like last year's show did. If you've brushed up on both your Shakespeare and your Schwarzenegger, it's a delight to hear how famous lines like "the lady doth protest too much" are incorporated into the story, and how classic cinematic quips are reimagined: "Hasta la vista, baby," becomes "peace be with you, bunghole."
The casting is killer across the board, starting with the muscular Matt Doman as the titular cyborg, thanks to whom I now know what Schwarzenegger's never-made Crusades epic might have sounded like. John Reid Adams is appropriately oily as the mercurial T-1000, and Jolie Hart perfectly captures John Connor's irritating adolescent self-righteousness. However, it's Pam Stone as Sarah Connor who steals the show, from her first one-armed pull-up to her ominous (and surprisingly affecting) soliloquies.
Director Simon Needham also transports the story's production design to the Elizabethan era (save a few anachronistic nods to the movie in Caitlin Nicholas's costumes), which offers an excuse to insert some amusing Monty Python-inspired sight gags. He's also omitted all of the iconic vehicular chases, instead emphasizing the elaborate swordplay staged by combat choreographer Bill Warriner; these fights have a professional flair you don't often see at Fringe, but feel somewhat constricted on the Orlando Museum of Art stage.
In the end, I didn't find
Shakespeare's Terminator the Second
quite as visually inventive or tightly paced as
Ghostbusters
was, although it does improve on its award-winning predecessor in the depth of its script and acting. I do wish the tone leaned more decisively toward either parody or tribute, rather than trying to straddle the two, but even so this ingenious adaptation should have its audiences declaiming, "I'll be back."
Shakespeare's Terminator the Second
Hardly Working Productions
Orlando FL
Gold
Ages 13 and up
60 minutes
$12
Thursday, May 16th 10:30 PM
Saturday, May 18th 10:30 PM
Sunday, May 19th 9:00 PM
Monday, May 20th 9:30PM
Thursday, May 23rd 8:30 PM
Saturday, May 25th 5:15 PM