own massive reimagining
. Two new rides, four updated films, and at least two new restaurants have already been confirmed for the park that is also receiving a new entrance plaza and a whole new Future World pavilion. While many of these additions won't open for some time still, Disney did confirm a new Japanese restaurant that will open this summer.
Known as Takumi-Tei, the new high-end restaurant will offer a menu with Wagyu beef as its central focus. A sake menu and a traditional tea service will also be available. An eight-seat table in the private Water Room will be available for a Chef's Table experience.
While only the Water Room has been confirmed, documents show other rooms will also focus on the various elements, including Washi (paper), Wood, Stone, Earth and Wa (harmony). Guests will check in and wait in a lobby area known as the 'Material Room.'
Takumi-Tei will be operated by Mitsukoshi USA, who oversees the Japanese pavilion, including its two other restaurants.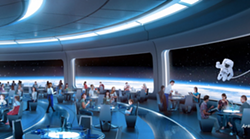 Another sit-down restaurant will open in Epcot's Future World adjacent to Mission: Space later this year as well. That space-themed restaurant by the Patina Restaurant Group will be overseen by Executive Chef Theo Schoenegger, who came to Orlando to serve as executive chef of Mario and Enzo's. Previously Schoenegger served as the executive chef of Wynn Las Vegas' Sinatra, where he built the menu around dishes he had personally prepared for Frank Sinatra while working in New York. Despite Schoenegger's
long history
with New York Italian dishes, the native Italian will be building a menu of "internationally inspired cuisine" for the new space restaurant.
Both Takumi-Tei and the yet to be named space restaurant will open this year at Epcot, with Takumi-Tei expected to open sometime this summer.
So many restaurants, so little time. Find out the latest dining news every Friday morning with our weekly Food + Drink newsletter.