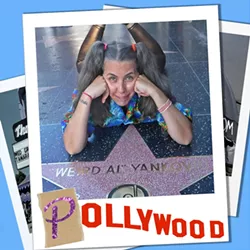 I was traumatized as a child by badly singing "Eat It" in front of my entire elementary school, and I've never been a fan of crowdfunding. So when I say that Polly Esther won me over with her her high-octane monologue about making a GoFundMe-supported cross-continental pilgrimage to witness Weird Al Yankovic's Hollywood Walk of Fame ceremony, it's high praise indeed.
Esther embarks by explaining how Weird Al's parody songs helped her survive teenage depression, then takes her audience on a blow-by-blow recounting of her trip to Tinseltown to meet her idol. A hyperkinetic yet self-effacing actor, Polly can't stop shuffling her feet and flapping her hands for even a second, and she's admirably unafraid of looking foolish on stage while awkwardly sprawled across a banquet table, or frantically packing a knapsack half-naked.
Although Esther could use a director to help inject a little more breathing room into her over-caffeinated pacing, which only slows down when she pauses to salute every single one of her donors,
Pollywood
is way more polished than
Damnit Jim
, her Trek-focused 2018 Fringe show. Like her prior production, it helps if you're a fellow admirer of her pop-culture obsessions. But even if you've never heard "I Love Rocky Road" or "Another One Rides the Bus," Polly's authentic enthusiasm for Yankovic's music and the community that's bonded around him is a welcome reminder of how family can be found in the unlikeliest of places.
POLLYWOOD
Pollywood Productions
Toronto Ontario
Blue
Ages 13 and up
60 minutes
$12
Saturday, May 25th 8:45 PM
Sunday, May 26th 3:30 PM