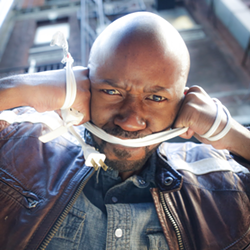 The national tour of
Hamilton
hit Orlando earlier this year, but if you couldn't get ticket for that mega-hyped show, Paris Crayton III is here to prove that you don't need to be a Founding Father to find fertile material for a rap musical in your fraught upbringing. Paris was a precocious youngster, obsessed with performing from an early age. But rather than encourage him, his mother tormented him worse than any imaginary monster hiding in his closet, while his adored absentee father drifted further away.
The broad outlines of Crayton's autobiography aren't unusual for a confessional Fringe show, but it's the specifics of his performance that make it exceptional: the electricity in his hyperactive body as he plays Nintendo, the mirthful yet merciless way he impersonates the authority figures who failed him, and especially the breathless delivery of dense beats in the songs and spoken-word poetry that breaks up his monologue.
Crayton bares all onstage – literally and emotionally – and the unsparing details of child abuse and animal torture are almost impossible to bear. But by the end, he leaves us hopeful that he's torn down the wall that stood between him and his identity, finding forgiveness on the other side by breaking the cycle of abuse. I'm not sure I'd be brave enough to do the same, but it's impossible not to be moved by Crayton's quest.
[Note: This review was originally published during the 2019 Orlando Fringe Winter Mini-Fest.]
Spare the Rod
Paris Crayton III
Brooklyn NY
Rainbow Venue at The Center
Ages 18 and up
60 minutes
$12
Friday, May 24th 9:15 PM
Saturday, May 25th 5:00 PM
Sunday, May 26th 4:30 PM