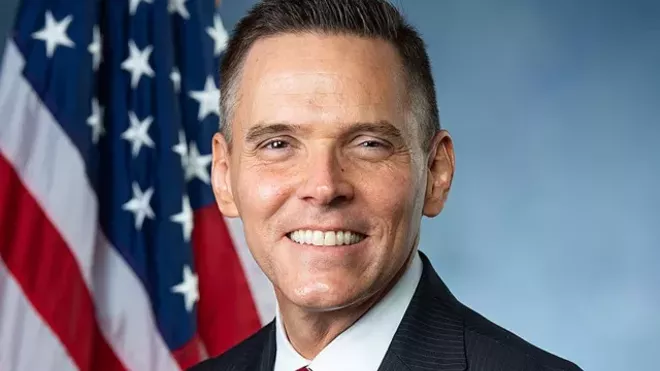 Photo via U.S. House of Representatives / public domain
U.S. Rep. Ross Spano
– a Republican who once filed a bill to declare pornography a public health crisis in Florida and was
caught looking at Twitter porn two days later
– used a doctored TIME Magazine cover in a recent argument against humankind's contributions to the warming of the planet.
Over the weekend, Tampa Bay news station WFLA aired an interview with Spano, who expressed skepticism about humankind's influence on climate change.
"What I've seen so far doesn't prove to me that man has had the influence that some people... said that it has had," Spano, 53, said in
the on-air interview.
Later on, he lamented the way some folks — namely scientists, politicians and climate activists — "force people to accept that it is true."
"And if you speak out against it, and you say, 'No no, let's talk about this,'" Spano asked. "Well you're an idiot. You're stupid."
There's
a lot of science
which suggests that humans do indeed play a role in climate change, but Spano (who's also been accused of
violating federal election laws
) used his time in the WFLA interview to possibly cite a doctored Time magazine cover in his argument against the human species' effect on climate change.
"..when I was very young, on the cover of Time magazine, we were headed into a period of global cooling," Spano said.
As author and Florida Man fan Craig Pittman
pointed out,
such a cover does not exist.
What Spano seems to be referring to is a doctored 2007 Time cover. The front of the original issue has a picture of a penguin and the headline
"The Global Warming Survival Guide,"
but the one Spano cited in his interview was doctored to look like it was published in 1977 with a headline that says, "How To Survive The Coming Ice Age."
The picture of the penguin appears on both covers, and the "1977" one
hilariously replaces
references to
The Sopranos
and Iraq with ones to M*A*S*H and Russia.
In Spano's defense, there was a 1974 Time story titled
"Another Ice Age?"
There were also
1973
and
1977
covers with headlines that read "The Big Freeze," but those cover stories were about the
1970s energy crisis
and weather, respectively. Another Time cover from 1979 has the headline
"The Cooling of America,"
but that's about the energy crisis, too. Maybe Spano was referring to a 1975
Newsweek
story called
"The Cooling World,"
which did not run on the cover of the publication's April 28 issue (a
WaPo opinion piece
incorrectly said it did)?
Regardless, Spano might need to check his sources before he tries to convince people that humans don't have an effect on climate change. But then again, it's easy to deny the science when you represent parts of Florida that won't be underwater as soon as Tampa and St. Petersburg will.
That still won't save Spano from the idiotic,
life-threatening heat though.
Spano represents Florida's 15th district, which includes northern Hillsborough and Polk counties, including Dover, Brandon, Plant City, Lakeland and Bartow.
Stay on top of Orlando news and views. Sign up for our weekly Headlines newsletter.