British Airways Holidays ends trips to SeaWorld Orlando, 'will no longer promote attractions featuring captive animals'
by Dave Plotkin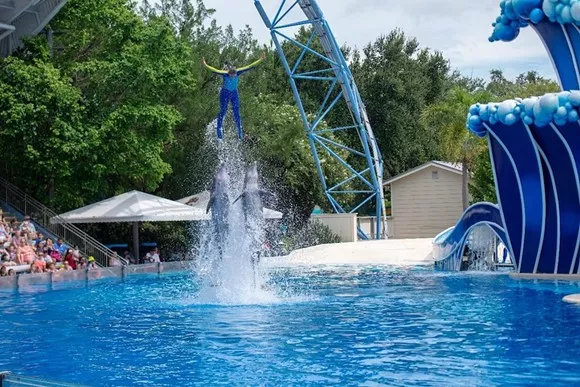 UPDATE: This story now includes a new response from SeaWorld CEO Gus Antorcha.

British Airways Holidays announced today that it will no longer promote attractions featuring captive animals, including SeaWorld Orlando.

"Our customers tell us they have concerns about wild animals being kept in captivity, and increasingly see animal performances in particular as outdated," the company said in a statement Thursday.



The move comes a few days after PETA accused SeaWorld of abusing their trained dolphins by having them lift and carry trainers on their noses during performances.

PETA released a series of eight photos from a July 26 trip to SeaWorld Orlando, which they submitted as evidence to the U.S. Department of Agriculture, including five "damnable photos" they claim show visible dolphin wounds.

"Imagine if someone stood on your mouth with their full body weight and rode you as though you were a surfboard," PETA said at the time of the complaint. Their letter urged officials to investigate violations of the federal Animal Welfare Act.

SeaWorld, according to chief zoological officer Dr. Chris Dold, "is recognized as a leader in setting the standard for the best marine mammal care in the world." He added in a statement that SeaWorld and other marine-park operators are "tired of PETA masquerading as legitimate animal experts, and making false and outlandish claims to advance their activist driven agenda and fundraising efforts."

In a statement, SeaWorld CEO Gus Antorcha responded:

"When radical animal rights activists mislead and manipulate the truth to the detriment of our planet's critically endangered animals, you have to question their motives. Pressuring companies and trying to shame them into cutting ties with independently accredited zoos and aquariums works against the vital research and conservation work to protect these animals. We are disappointed that British Airways Holidays succumbed to pressure from animal activists and changed its policy given the facts."

Still, British Airways Holidays is just the latest to join 12 other airlines and travel companies that have cut ties with SeaWorld. These include Delta

Airlines,

JetBlue,

Southwest

,

WestJet, Air Canada,

and even

Spirit.

Within the last month, Virgin Holidays, United Airlines and AAA Northeast have all dropped SeaWorld from their trip offerings.

Dr. Naomi Rose, a marine mammal scientist for the Washington, D.C.-based Animal Welfare Institute, said in a statement, "a growing number of tourism-related businesses clearly see the future. They realize that their customer base no longer wants to see intelligent dolphins and whales performing circus tricks. Now it's time for the marine theme parks to get the message."

AWI and World Animal Protection published the fifth edition of "The Case Against Marine Mammals in Captivity" in April. The detailed report delves into the behind-the-scenes realities of zoos, aquariums, and marine theme parks that display marine mammals but "for the most part fail to provide essential or even accurate conservation or education resources."

"Whales and dolphins belong in the ocean — not in concrete tanks," said Rose.

"From today, all attractions where captive wild animals are central to the attraction have been removed from its website, BA.com," the company noted in a statement Thursday.

Further information on British Airways Holidays Wildlife Policy can be found at ba.com/animalwelfare.


Stay on top of Orlando news and views. Sign up for our weekly Headlines newsletter.
Consider supporting local journalism.
Our small but mighty local team works tirelessly to bring you high-quality, uncensored news and cultural coverage of Central Florida. Unlike many newspapers, ours is free – and we'd like to keep it that way, because we believe, now more than ever, everyone deserves access to accurate, independent coverage of their community.
Whether it's a one-time acknowledgement of this article or an ongoing pledge, your support helps keep Orlando's true free press
free
.