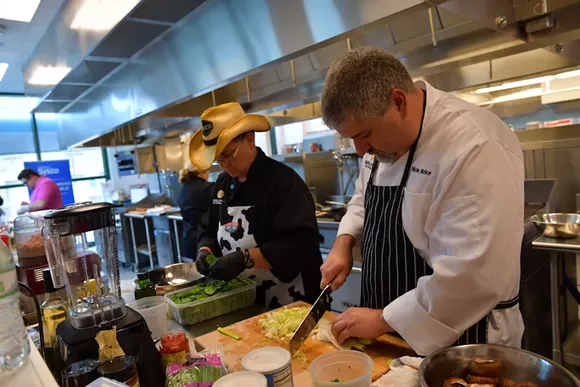 Photo via World Food Championships
Marianna may be a small town in Florida, but the award-winning chef there is a pretty big deal.
Nick Rickman, or "Chef Nick" runs the
The Salt Block
in Marianna Florida, and could have have just won $100,000 in a competitive cooking challenge.
We'll found out if he won this weekend when the finale for "The Final Table: New Orleans" airs.
The hour television show, pegged as a "world class food fight" takes the cream of the crop. It consists of 10 chefs who already won $10,000 in the World Food Championships 2018 event and gives them a shot at $100,000 if they can impress restauranteurs with creole-inspired cuisine.
"To win it all truly would be the icing on top of the cake," Rickman said in a press release on the event.
A mix of judges will decide who walks aways with 100 grand. Among them are Katie Dixon, of Master Chef fame, Sysco's Corporate Chef Raymond Yakelis, Tableau's Executive Chef John Martin, and Dickie Brennan, a chef and New Orleans restaurateur.
For the final round, Rick Blount, CEO of the family-owned restaurant Antonie's will also join the judge panel.
The winner will be announced Saturday on CNBC at 11 a.m.
Stay on top of Orlando news and views. Sign up for our weekly Headlines newsletter.