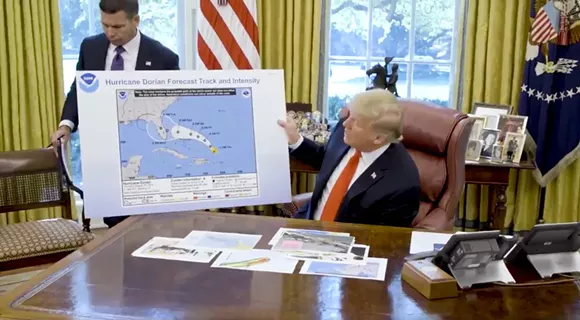 Screenshot via White House / Twitter
There's a picture making the rounds on Twitter of President Trump presenting a Hurricane Dorian trajectory and folks find it confusing.
Ryan Breton, a
meteorologist based in Maine,
pointed it out on Twitter. It appears a black mark is extending Dorian's trajectory to Alabama.
It's not the standard way to draw forecast cones, apparently.
Trump did say that what he was holding was an original projection, and original maps from the National Hurricane Center did project that Dorian would reach Alabama.
But Twitter users pointed out Dorian's current path looks nothing like the old map that the president presented in his short video update posted online.
Stay on top of Orlando news and views. Sign up for our weekly Headlines newsletter.