Women-focused competitor to Lyft, Uber launches in Orlando next week, but is it any good?
by Ross Nobles
Ride-share companies like Lyft and Uber have faced backlash for their perceived lack of concern for passenger safety, especially with reports of abuse and sexual assaults against women making headlines.

Now, one ride-share company says it was founded by women for women, to provide safer rides with strangers. Their secret, they say, is a more rigorous background check and a mission to hire more women drivers. Starting Oct. 1, Safr will launch in downtown Orlando and will be available to customers who download their app, Ride Safr.

It's a reminder that in an industry dominated by men, ride-share safety for women matters. Women reportedly make up less than 25 percent of current ride-share drivers and make on average 34 percent less than men, according to the company. Safr says it is changing the status quo by making a commitment to pay their drivers "more than the industry standard," to improve the quality of driver applicants.



The company is wasting no time promoting its entry into the Orlando market. Safr plans to be at the new UCF/Valencia Downtown Campus on Tuesday, Oct. 1 and Thursday, Oct. 3 with information and student giveaways for students. They are also an official sponsor of Orlando Mayor Buddy Dyer's 2019 State of Downtown Address, to be delivered on Oct. 2, and Safr plan to host a press conference at 9:30 am in the City Hall Commons area.


While the state of Florida has had its troubles with ride-share companies in the past, some Orlando residents are embracing the inclusivity that SAFR offers. But is the app really good?

The app itself has faced problems in the past with an under-developed interface and a lack of drivers in metropolitan areas like Boston. It's current rating is 2.9 out of 5 stars on the app store.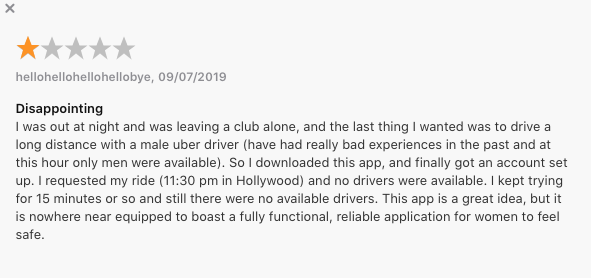 The press release also listed to Gmail addresses as points of contact for drivers to apply – not the most professional look. Assuming their ratings improve, this women-friendly ride-share program will also become a welcome addition to Orlando's newly installed RideShare Hub, which runs along Magnolia Avenue in Heritage Square and Gertrude Avenue, near Jefferson and Washington streets, from midnight to 3 a.m.

Stay on top of Orlando news and views. Sign up for our weekly Headlines newsletter.