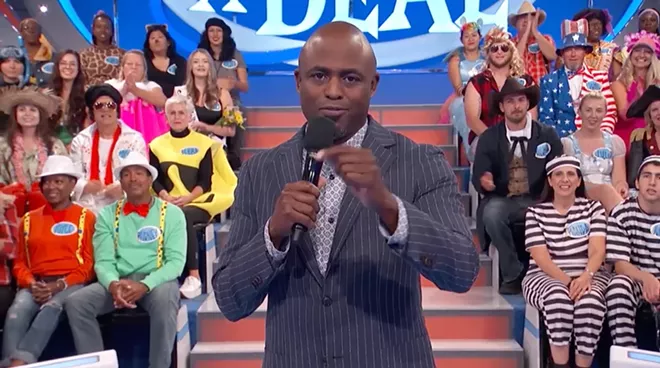 Screenshot and video via Dr. Phillips Center
Recognizing one of the most famous entertainers to come from our city, Mayor Buddy Dyer declared Saturday, Oct. 12, as Wayne Brady Day in Orlando.
That's also the date Brady will perform a solo show at the Dr. Phillips Center for the Performing Arts, before he begins a Broadway role next week, in Lin Manuel Miranda's
Free Style Love Supreme
.
In a video of the proclamation released Wednesday, Dyer, dressed in a tan jacket to evade detection in front of a tan backdrop, read the statement with three Dr. Phillips Center staffers on hand to celebrate.
Mayor Dyer appears second from the left, above
One of them, Karen Rugerio, is now director of education outreach at Dr. Phillips Center, and was Brady's drama teacher in the Dr. Phillips theater magnet program. She received the proclamation from Dyer on Brady's behalf.
Brady's improv, singing, and audience-interaction talents have served him well beyond standup comedy. Now 47, he has appeared on numerous TV shows, including "Whose Line Is It Anyway?" as well as his own "The Wayne Brady" show, for which he won two Emmys for Outstanding Talk Show Host. He took over hosting duties on "Let's Make a Deal" in 2009, where he was been nominated seven times for the Daytime Emmy Award for Outstanding Game Show Host, before winning last year.
Brady took time out from hosting the show to send his own thank-you video back to Dyer and the city, expressing gratitude for the Orlando people and institutions who gave him an early boost.
"Little guy from Tangelo Park, I never thought I'd see the day that I have my own day in Orlando," Brady says in the video. "I'm so thankful for the start that Orlando gave me. Dr. Phillips High School, the drama program, Karen Rugerio, SAK Theater, I love you guys. So I'll see you October 12, in Orlando, Dr. Phillips Center, come get ready to laugh. I love you guys."

Dr. Phillips' public relations director, Alice Smetheram, remembers casting a then-16-year-old Brady in a downtown event that SAK theater was part of, which she says started his improvising.

"He's dropped in at SAK when he's been in town," he said in an email. "But this is his first big show in Orlando, and certainly at Dr. Phillips Center, since it opened."


Stay on top of Orlando news and views. Sign up for our weekly Headlines newsletter.