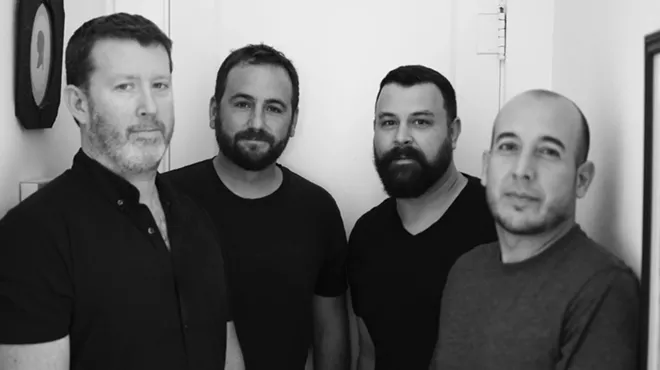 Welcome to
Orlando Weekly
's "
Band of the Week
." Every week, we highlight one of our favorite local bands. This week, we're pleased to bring you
Curtains
.
Curtains are playing Whiskey Lou's with Sick Dogs and Grave Return on Saturday, Oct. 19.

Just the facts:

When did the band form?

About two years ago.
Who's in the band?

Micky Michalec - Drums
Wes Snowden - Bass
Mikey Cortes - Guitar
Mike Levin - Guitar and Vocals

Websites:

Facebook

Bandcamp
Describe your sound in five words:
Fast Folk Storm Death Pop
Five questions:

What has been your most memorable show so far?

I forget
Which local band is your favorite one to play a show with?

Grave Return and Sick Dogs (tie). We always get their drink tickets.
What description gets used for your band that you would most
like to correct people on? Why?

People call us "old, washed-out, derivative swill" but we're really not that old.
What's your favorite thing about being an Orlando band? What's your least favorite? Why?

Favorite thing is playing at Will's. Least favorite is playing at Will's. Depends on the show.
Any big news to share?

Everyone in the band is named Mike except for Wes and Mark. We have a 10-inch record coming out soon! Split with High (NOLA) on Ashtray Monument Records! Upcoming show at Whiskey Lou's Saturday Oct 19th!