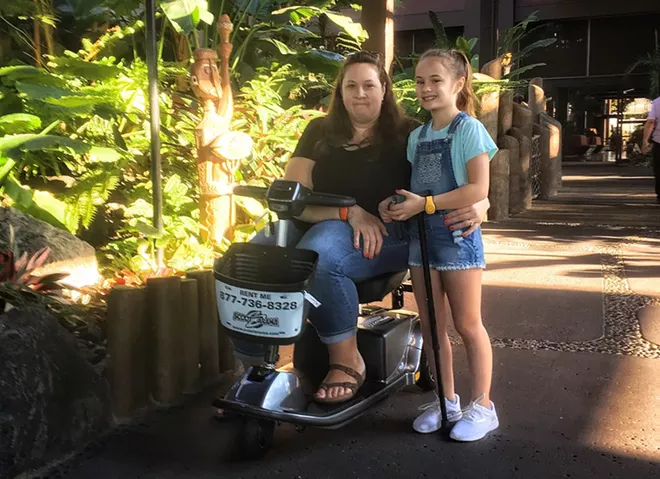 Every year, millions of people come to Orlando to visit the world-famous theme parks. Among them are thousands of people with movement disabilities, for whom a mobility scooter could make all the difference in the quality of their visit. And though the parks are welcoming to mobility-impaired visitors, their on-site rentals of equipment can be pricy, so those with a need might want to consider renting off-site.
First off, what even is a mobility scooter? It's an
electric conveyance vehicle (ECV)
designed to aid those who need a little extra help getting around. They are similar in purpose to wheelchairs, but are generally used by those still capable of some degree of personal mobility.
And what are the differences between an electric wheelchair and a mobility scooter? When contemplating a rental, you'll need to know which is best for you. Mobility scooters come equipped with handlebars connected to a tiller; you press a throttle to go forward or reverse. Electric wheelchairs, on the other hand, are controlled by a joystick. Another distinction is the number of wheels. A mobility scooter has the option of three or four wheels, whereas the electrical wheelchair has a minimum of four wheels, sometimes six.
There are several scooter rental companies located in Orlando. A simple Google search for "Orlando Scooter Rental," "Scooter Rental Orlando" or "Rent A Scooter In Orlando" will provide you with search results of reputable rental companies throughout Orlando such as
Scootarama
. Scooters can typically be rented for $25-$60 per day. Rates vary depending on location, company, quality and size of the scooter.
Renting from an off-property vendor often results in a price 40 to 50 percent cheaper than a theme park. For example, a standard Universal Orlando scooter rental is $50 per day with a $50 deposit. They do not allow for reservations in advance, and the scooters can only be used inside the theme park. Their supply of scooters is located inside the main entrance, which is a quarter-mile from their parking garage.
Mobility scooter rental companies abound throughout Central Florida, and renting from such companies is often far cheaper than renting from an attraction or destination. Doing so may also help you avoid being left without, as such destinations often carry a limited supply for their guests. Not to mention, having a scooter can make visiting other places like restaurants, malls or parks easier.
What about the weather? After all, it can get pretty wet in Orlando. Most scooters are water-resistant, but this is a far cry from waterproof. Orlando has a tropical climate, so it rains quite often. It is recommended that you cover the top console of your scooter during a rainstorm to prevent electrical damage. Rental companies can advise you on the best way to do this.
For more on this or any other mobility scooter questions,
take a look at this FAQ
. All in all, your visit to Orlando can roll a lot smoother if you plan ahead.
Stay on top of Orlando news and views. Sign up for our weekly Headlines newsletter.