Photo of Amtrak train at Tampa Union Station by TampAGS via Wikimedia Commons
Amtrak just announced a "Track Friday" sale starting Friday, Nov. 29 until Cyber Monday, Dec. 2 – to help you get the hell outta town.
During those dates, travelers can book tickets to see loved ones (or travel far, far away from loved ones) for as low as $19. You can book select trains nationwide for travel between Dec. 9 and April 30.
Map of Amtrak Florida routes courtesy of Amtrak
During the promotion, you can ride from Miami to New York for $105. Or be frugal and keep it in the South, with a route from Memphis to New Orleans for $42 during the sale.
Overall, the sale takes about 35 percent off the price of nationwide travel.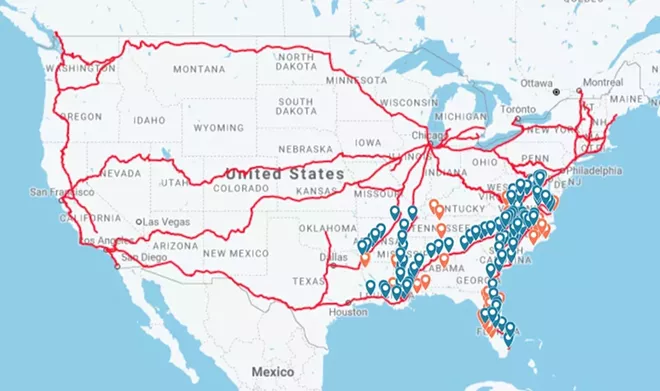 Map of national Amtrak routes courtesy of Amtrak
The Auto Train is excluded from the sale, so it's for those who don't need to haul a car. There's also a 25 percent cancelation fee, which makes it less risky to try out the train.

Stay on top of Orlando news and views. Sign up for our weekly Headlines newsletter.