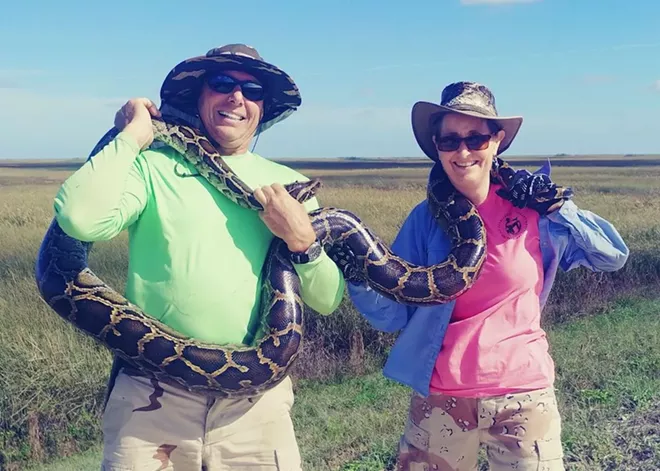 Photo via MyFWC/Twitter
Air Force veteran Dave Mucci won $1,000 for an 11-foot python
In coordination with the upcoming Super Bowl, a 10-day competition called the "Python Bowl" was held in Miami to remove invasive Burmese pythons from the Everglades, and to raise awareness of the threat they hold over Everglades restoration.
Over 750 participants wrangled 80 snakes, and 550 participated in hands-on, optional safe-capture training. The results were announced by the Florida Fish and Wildlife Conservation Commission and South Florida Water Management District at a
Super Bowl Live event on Saturday
, with cash and prizes awarded for the biggest, longest and most removed.
For the most removed, winners included:
Mike Kimmel, TRACKER 570 Off Road ATV, eight pythons
Kristian Hernandez, TRACKER 570 Off Road ATV, six pythons
For the longest:
Tom Rahill, $2,000, 12-foot, 7.3-inch python
Kristian Hernandez, $2,000, 11-foot, 6.5-inch python
For the heaviest:
Tom Rahill, $2,000, 62-pound python
Dave Mucci, $2,000, 49.4-pound python
This event is not the only time citizens can help control the python population.
According to the press release, anyone can hunt pythons any time on private lands with landowner permission and on
22 public lands
throughout South Florida. They can even take part in ongoing trainings to learn more about how to identify and capture Burmese pythons in the wild.
Sightings of invasive species can also be reported by calling by phone at 888-IVE-GOT1 (888-483-4681), or visiting
IveGot1.org
.
Stay on top of Orlando news and views. Sign up for our weekly Headlines newsletter.