Photo courtesy Boston Market, but why?
Look, we get it, you like meat. Bacon, pork belly, ribs. Yes, that's fantastic, even though it isn't really a character trait.
It does, however, mean you'll probably love Boston Market's shameless new Valentine's Day promotion which is, to be clear, nothing more than a clutch of ribs wrapped in a sheet of paper.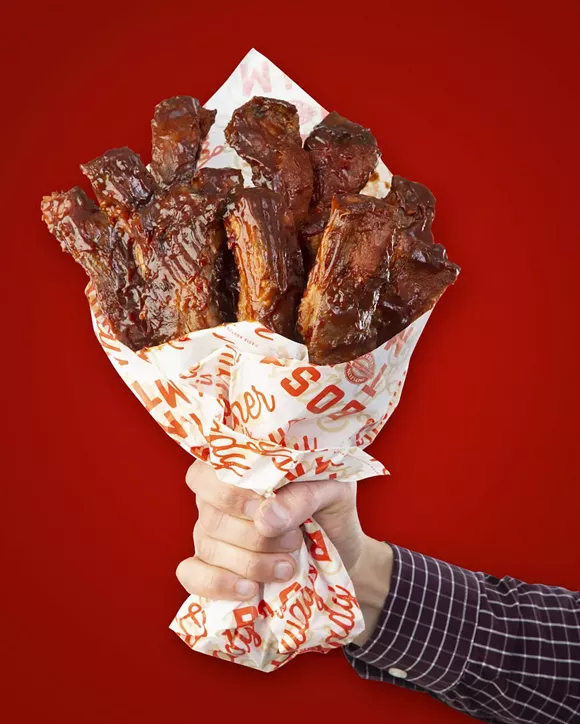 Photo courtesy Boston Market
Well, that's just great, isn't it? I don't know whose fault this is, but people went to college for this. There were PowerPoint presentations. But it's working, I guess, because here we both are, talking about these ribs.
Let's continue.
"Ditch the dozen red roses and chocolates this Valentine's Day by giving your 'bae-by' a gift they'll never forget," begins the press release, written by someone who has never dated anyone, ever. That gift, of course, is "a bouquet of fall-off-the bone baby back ribs!"
Yes, on Valentine's Day, Friday, Feb. 14, the chain will be offering "a select number" of these "limited edition BAE-by Back Ribs Bouquets" at all of its restaurants nationwide.
They cost $29.99 each, and hold a dozen of Boston Market's baby back ribs. A full order of ribs usually costs $13.99, so the holiday pricing is extra romantic.
If you'd like something cheaper, couples can eat a dinner for two on Feb. 14, including two half orders of ribs, four sides, and two pieces of cornbread, for $20 with a coupon available
on their website
.
Please never say the words "ribs bouquet" in our presence again.
Photo courtesy Boston Market
Stay on top of Orlando news and views. Sign up for our weekly Headlines newsletter.