Family, city leaders celebrate life of Orlando LGBTQ advocate Terry DeCarlo on Wednesday
Photo via Terry DeCarlo/Facebook
Members of the Orlando community, including Mayor Buddy Dyer and Commissioner Patty Sheehan, are gathering Wednesday evening to celebrate the life of Terry DeCarlo, the former executive director of the LGBT+ Center and leader among the LGBTQ community.

DeCarlo, who was 57 years old, passed away on Jan. 27 after battling stage-four face and neck cancer.

"The cancer was just too aggressive for treatment," wrote his husband, Bill Huelsman, in a Facebook post via DeCarlo's account.



The Terry DeCarlo memorial is set to take place on Wednesday at the Abbey in downtown Orlando. Seating begins at 6 p.m. and the service starts at 7 p.m.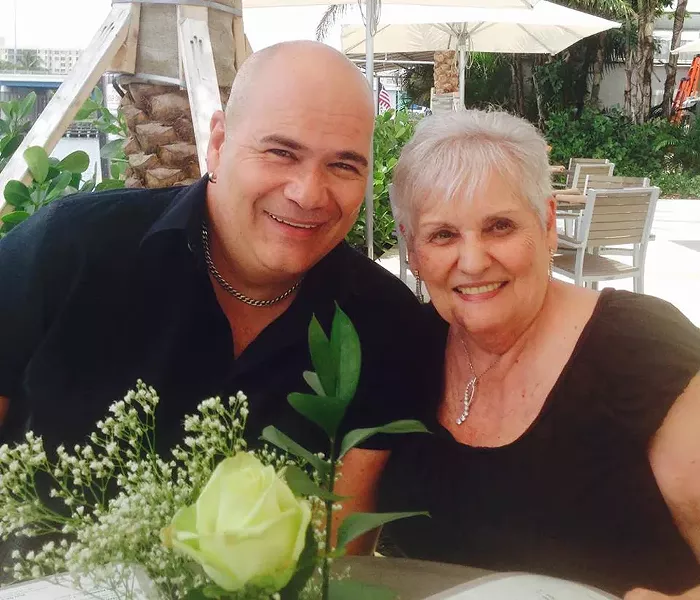 Photo via Terry DeCarlo/Facebook
Terry DeCarlo with his mother, Anne Fabrikant
DeCarlo moved to Central Florida and became the executive director for Orlando's LGBT+ Center in 2014, ultimately beoming the face of the LGBTQ community in Orlando following the Pulse Nightclub tragedy in 2016.

As one of the first advocates on the scene at Pulse, DeCarlo dedicated much of his time to helping victims and their families for years after the shooting.

He had previously stated he was going to move to Miami to serve as the Southeastern regional director for the AIDS Healthcare Foundation, but after the Pulse attack decided to postpone those plans and remain in Orlando to support the community.

Photo via Terry DeCarlo/Facebook
Terry DeCarlo with husband Bill Huelsman at Miami Pride Parade 2019
Following a stress-induced heart attack in 2017, DeCarlo stepped down as executive director and became the communications director for the LGBT+ Center until 2018. He and his husband then moved to South Florida, where DeCarlo continued to advocate for the LGBT+ community as communications director for the Broward County government.

Tonight's service will include remarks by Dyer, Sheehan, family and friends, with a bagpipe performance, a flag-folding ceremony and "Taps."

For more details and updates about Terry DeCarlo's service, visit the official Facebook event page. For more information on Orlando's LGBT+ Center, please visit TheCenterOrlando.org.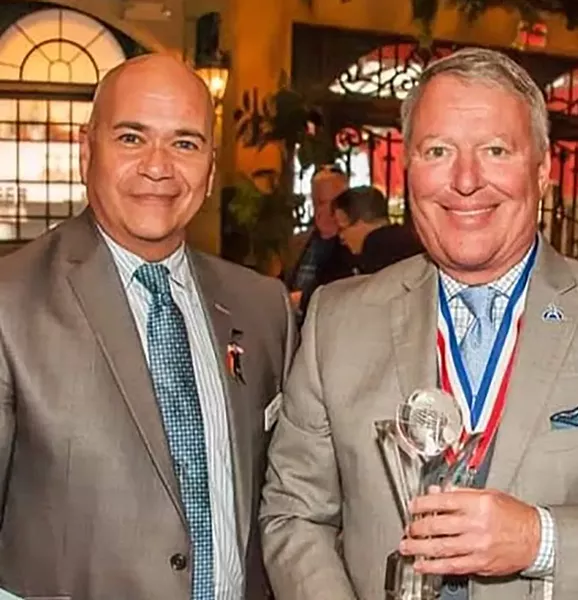 Photo via Terry DeCarlo/Facebook
Terry DeCarlo with Mayor Buddy Dyer
Stay on top of Orlando news and views. Sign up for our weekly Headlines newsletter.
Consider supporting local journalism.
Our small but mighty local team works tirelessly to bring you high-quality, uncensored news and cultural coverage of Central Florida. Unlike many newspapers, ours is free – and we'd like to keep it that way, because we believe, now more than ever, everyone deserves access to accurate, independent coverage of their community.
Whether it's a one-time acknowledgement of this article or an ongoing pledge, your support helps keep Orlando's true free press
free
.