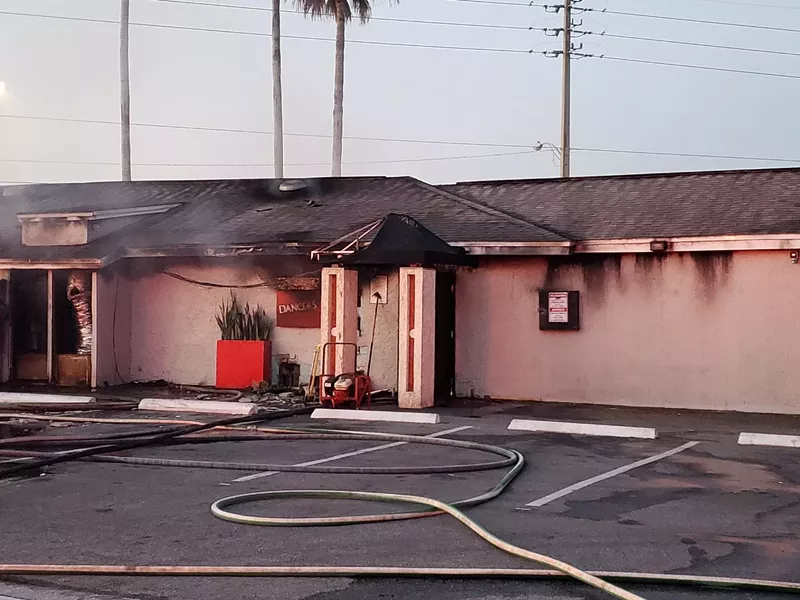 Photo via Orange County Fire Rescue
Orange County Fire Rescue reported a building fire at "5201 E. Colonial Drive" on their Twitter feed this morning. Sadly, the building in question appears to be 5221 E. Colonial Drive, aka Orlando institution Dancers Royale.
After a 911 call reporting smoke and flames was made shortly after 6 a.m., firefighters arrived and located the fire. East Colonial Drive was temporarily shut down while crews worked to extinguish the blaze.
The outer structure is still standing, but
longtime bartender
(sorry, it's been a long time since I've gone to a strip club) the owner of Dancers, Gene DuPont, posted photos on his Facebook page of the interior looking completely destroyed, with ribbons of charred material hanging from a black ceiling and holes in the walls and roof.
OCFR reports that they believe the fire to have spread from the kitchen, but now it is the State Fire Marshal's job to make a determination. We'll publish information from the report once it's been finalized.
— Please follow CDC guidelines and Orange County advisories to stay safe, and please support this free publication. Our small but mighty team is working tirelessly to bring you news on how coronavirus is affecting Central Florida. Please consider making a one-time or monthly donation. Every little bit helps.