Photo via Anthony Sabatini/Twiiter
State Rep. Anthony Sabatini, R-Howey-in-the-Hills
Republican state lawmaker Anthony Sabatini has been circulating an op-ed to Florida publications on Thursday, hoping one of them will publish his essay, titled "The time to open is now."
His argument that Florida should "open all business establishments, including all retail and restaurants this weekend" comes one day after Florida reported the
second-highest
single-day death toll yet, of 60 people on Wednesday.
Florida currently has had
28,832 coronavirus cases
with 960 fatalities. Wednesday's one-day death rate is second only to April 14, when 72 victims died from the disease.
"Like Georgia and South Carolina, Florida has passed the peak of COVID's damage," says Sabatini, falsely. "Like Georgia and South Carolina, we are on the downward trajectory of the fight against COVID. And it is time to respond to these facts appropriately."
Again, Sabatini's "facts" don't align with the actual rates of infection and death in Florida.
His district includes Leesburg, Clermont and Groveland in Lake County, where there are 214 cases. In nearby Orange County there are 1,260 cases. Lake County borders Orange County to the west and north.
Sabatini's remarks were also distributed two days after
commenter Van Jones said
reopening businesses amid coronavirus is "a death sentence for communities of color," agreeing with April 10 comments by U.S. Surgeon General Dr. Jerome Adams, who said communities of color are disproportionately impacted by coronavirus.
"The chronic burden of medical ills is likely to make people of color less resilient to the ravages of Covid-19 and it is possibly, in fact, likely, that the burden of social ills is also contributing,"
said Adams
.
An April 7
Washington Post investigation
backs that up, finding that majority-black counties have three times the infection rate, and almost six times the death rate, as majority-white counties.
"As the novel coronavirus sweeps across the United States, it appears to be infecting and killing black Americans at a disproportionately high rate," the
Post
reported, using an analysis of early data from jurisdictions across the country.
Newer
research has found
Black people are dying in disproportionately higher numbers in many major metropolitan areas, including Orlando, Miami and Fort Lauderdale. Florida's population is just under 16 percent Black.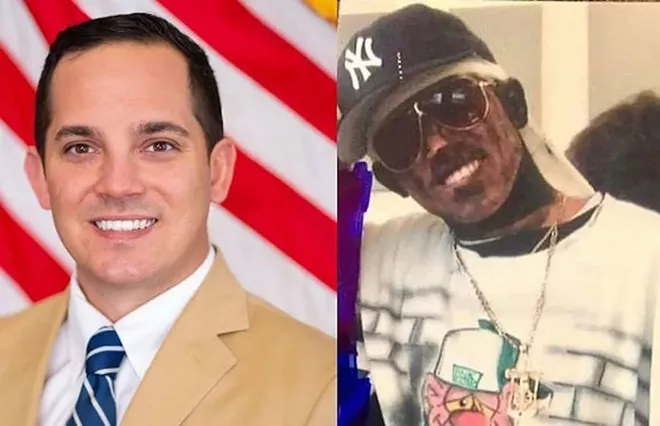 Photo via Anthony Sabatini /Facebook
It's no wonder Sabatini doesn't care about the racial implications of his declaration. He has a shameful history with race.
The 31-year-old state representative and former city commissioner was photographed
wearing blackface
while a sophomore at Eustis High School, including an outfit with a do-rag and gold chains.
Sabatini, who reportedly "drove a junker car painted like the General Lee" in high school, was also photographed in
brownface
, part of a "Mexican costume with darkened skin, a fake mustache, a serape and a straw cowboy hat turned sideways resembling a sombrero.
Sabatini is hardly the most thoughtful person to weigh in on the public health crisis. He's backed legislation to allow open carry of firearms
without a license
, to allow
concealed weapons on college campuses
, and to
deny life-saving health care to transgender youth
. He once tweeted "MAGA"
at reporter
who was allegedly assaulted at Orlando Trump rally.
Photo by Stephanie Childers
Sabatini
Now, as other southeast Republican governors are
signaling similar plans to reopen
business before any decline in coronavirus cases takes place, Sabatini and elected leaders like him are more loudly taking taking up the anti-science, increasingly partisan position, and weaponizing ignorance in the process.
Protesters
gathered on April 17
at the Orange County administration building downtown, calling for businesses to reopen, and three statewide protests are planned this Saturday in Orlando, Tallahassee and Miami, called
"Operation: Reopen Florida."
The events are led in part by
right-wing leaders
of the Proud Boys.
Sabatini, of Howey-in-the-Hills, already
drew two Democratic challengers
from Clermont last year for his 2020 District 32 race, with Ryan Morales filing in April 2019, and Stephanie Dukes in November. The district, however, leans decidedly Republican, a fact reflected by the challengers, neither of whom have political experience.
Morales uses a
Star Wars-themed logo
and lists his
occupations
as "marketing Jedi," author, DJ, artist and political consultant. Dukes is a retired Tallahassee transportation system worker and teacher for Miami-Dade County Public School System with
a 1,300-word biography
on her website.
With little threat from his political opposition to act as a check on Sabatini's recklessness, it's up to individual publications and media outlets to check their own consciences before publishing his op-ed and amplifying such deadly nonsense.
_
Please follow CDC guidelines and Orange County advisories to stay safe, and please support this free publication. Our small but mighty team is working tirelessly to bring you news on how coronavirus is affecting Central Florida. Please consider making a one-time or monthly donation. Every little bit helps.