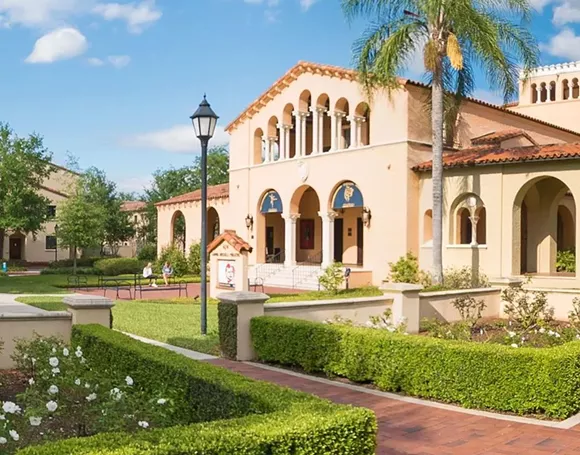 Photo via Rollins College
Updated, May 14 |
A Rollins representative reached out to specify that "more than 40 percent of the positions eliminated were vacant. In addition, President Grant Cornwell and his leadership team have taken voluntary reductions in salary." The representative wrote there is not a $16 million budget deficit, adding, "we ended the last fiscal year with a small surplus and are projecting to do the same in the coming fiscal year. We are projecting lower revenue and thus are adjusting our expenses to align with that projection."
–
A Rollins College faculty member reached out to
Orlando Weekly
on Wednesday with an announcement that the college is reducing staff by 15 percent across all departments. That number would be about 100 out of roughly 750 staffers laid off with severance, but the college says 40 percent of positions being cut were vacant.
The source, who wished to remain anonymous, says the staff reductions are due to low enrollment and financial deficits related to COVID-19. The school recently
received about 2.7 million
from the CARES Act.
"I thought it was deeply indicative of how systemically broken higher ed is in this country, that one crisis could affect our operating costs so dramatically when tuition remains untenably high," said the source. "We were notified of these changes in a town hall meeting yesterday."
The school is also implementing tiered salary reductions across the board. People making less than $45,000 will remain unaffected. According to our source, all departments were asked to cut operating costs and workforce by 15 percent, including athletics.
Our source shares that Rollins president Grant Cornwell is forgoing his salary for the fall semester and possibly longer. Additionally, Rollins will no longer be a sponsor of the Winter Park Institute.
This post has been updated with new information form Rollins College.
_
Please follow CDC guidelines and Orange County advisories to stay safe, and please support this free publication. Our small but mighty team is working tirelessly to bring you news on how coronavirus is affecting Central Florida. Please consider making a one-time or monthly donation. Every little bit helps.