Image via Royal Caribbean
The new PortMiami Royal Caribbean Terminal
Cruise lines have been hit especially hard during this pandemic. Now, as cruise companies look to regain some semblance of normalcy, they're facing a new struggle. Many ports seem disinterested in welcoming them back any time soon.
Nearly all – 96 percent – of travel destinations around the world have imposed some form of restrictions, with some of the most extreme being directed at the cruise industry. While many cities and countries have yet to commit to a reopening date, some of those which have are presenting a major hurdle ahead.
Seychelles rocked the travel industry last week when they announced the country would be banning cruise ships at its Port Victoria
until 2022
. The nation, which sits off the coast of East Africa, has been a popular spot in the burgeoning Asian cruise market.
joined by other countries
with Australian
politicians now debating
banning international travel until at least mid-2021.
In the Caribbean Sea, where the largest number of cruise sailings happen, the Cayman Islands have closed Grand Cayman to cruise ships until
at least September
. The CDC has a
No Sail Order
on all cruise ships from operating in U.S. waters through at least July 24.
To the north in Canada, all arctic
ports are closed
for the season, while cruise ships with more than 500 passengers are blocked from Canadian ports until at least July. Norway has closed its borders
through August 20
, effectively blocking the European based arctic cruise industry, which sails almost exclusively out of Svalbard.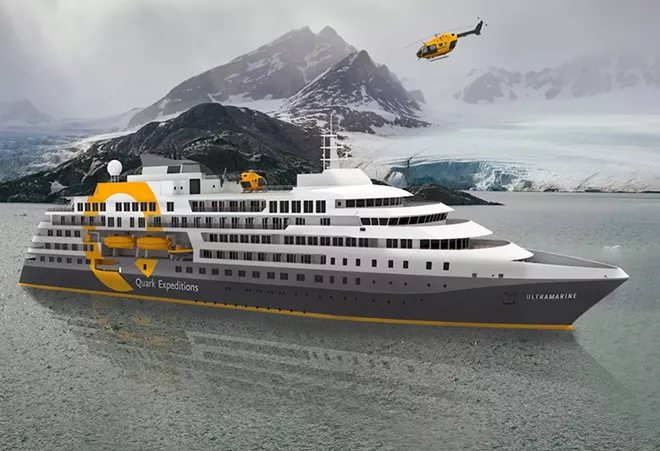 Artwork via Quark Ultramarine
With the late July "no sail" order, the popular summertime cruises in Alaska are also all but blocked out for the season, causing nearly 80 percent of Alaskan cruises for
2020 to be canceled
. Like many port destinations, the cruise industry is a significant economic contributor to Alaska's port cities with pre-coronavirus estimates expecting $793 million in direct spending by cruise passengers.
Despite the significant negative economic impacts,
some
are pointing to destinations that have struggled to keep up with
cruise ship issues
, like over-tourism and environmental degradation, to use this time to step back and review their visitor controls.
Larger ships and more popular destinations that have become known for their packed streets and crowded attractions may
find it more difficult
to recover as many seek less crowded travel destinations. In speaking to
The Washington Post
, residents in Amsterdam, which has closed its ports indefinitely,
reveled in the city
now void of its infamously bad behaved English-speaking tourists. Locals in Venice, Italy feel the same way, with one local residents advocate
telling CNN
that she hopes fewer tourists return, allowing for more permanent local residents and a stronger local culture.
Meanwhile, the economic impact, or lack thereof, is being highlighted in some of the ports-of-call where the lack of cruise passengers shows what little economic impact they have. As cruising has become more common with lower-income travelers, the per guest spending in ports has dropped as well. In 2019,
Maine found
that on average, cruise passengers spent just $61.76 ashore per day, nearly half of the $110 that a study a decade earlier had found.
A World Tourism Organization
report
published prior to the pandemic called on the cruise industry to focus more on contributing to local economies while doing more to right the notoriously horrible environmental record that the industry has become known for.
Then there's the issue of labor. The low wages, sometimes being less than $100 for a 40-hour workweek, have
long been
an issue with many
labor rights activists
, but now with no tips to augment these wages, the 100,000 workers still
trapped on cruise ships
globally are facing uncertainty while fearing for their lives on the boats where more than half a dozen have died and over 500 have contracted the virus. Some have turned to social media
begging for help
, and at least two apparent suicides of crew members have occurred in recent weeks. These horror stories may cause others to question if the months-long, no days off work schedule that cruise ship demand is worth it.
Despite so
many uncertainties
and
negative headlines
, one thing is clear; the cruise industry, in some form, will survive. For those currently stuck at home, cruises are apparently a tantalizing offer with all the major cruise lines reporting the pandemic has so far had
no significant impact
on 2021 bookings.
_
Please follow CDC guidelines and Orange County advisories to stay safe, and please support this free publication. Our small but mighty team is working tirelessly to bring you news on how coronavirus is affecting Central Florida. Please consider making a one-time or monthly donation. Every little bit helps.