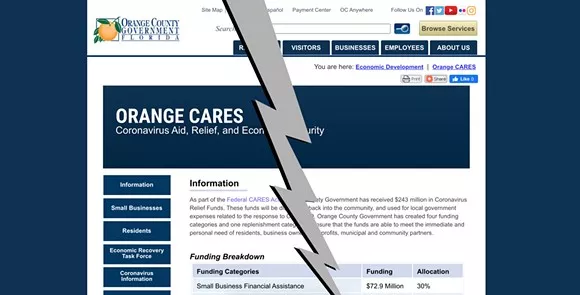 Orange County shut down their CARES Act application portal today just before 9:30 a.m.
–
just over an hour after reopening for service
–
marking the second day of a confusing and frustrating roll-out of the system for local applicants.
The portals reopened at 8 a.m. this morning and by 9:27 a.m., system administrators shut the Individual & Family Assistance Program down for the day,
sending out this tweet
after apparently receiving 50,000 applications:
The writing was already on the wall that today would be a bumpy ride for applicants as early as 8:38 a.m. this morning, with these two tweets sent out:
Claimants already "in" the system have until midnight tomorrow to complete their applications.
Orange County residents expressed frustration yesterday over the system
being shut down a few minutes after the 8 a.m. opening
to the public. Orange County Mayor Demings was also reportedly unhappy with this,
amending an earlier decision
to not reopen the portal until Wednesday to today.
It's maddening to see those in need of financial assistance and already under huge amounts of stress being forced to deal with two broken and mercurial web portals now,
not just one
.
Applications for Individual and Family Assistance are set to reopen Wednesday
, June 10, at 8 a.m. but this is a continually shifting situation.
The Small Business Application Portal is reportedly still open as of this writing.
_
Please follow CDC guidelines and Orange County advisories to stay safe, and please support this free publication. Our small but mighty team is working tirelessly to bring you news on how coronavirus is affecting Central Florida. Please consider making a one-time or monthly donation. Every little bit helps.