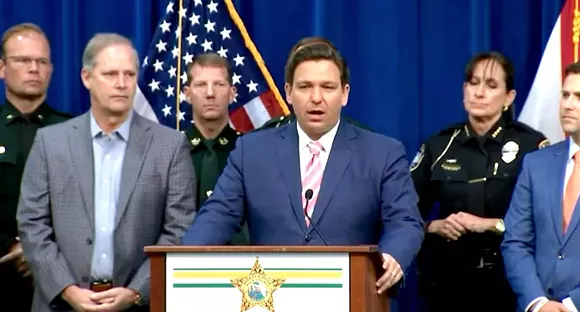 Screenshot via Florida Channel
Pointing to a move by the federal government to halt evictions, Gov. Ron DeSantis on Wednesday let expire an executive order aimed at limiting evictions and foreclosures.
DeSantis on Aug. 31 approved a one-month extension of an order to prevent foreclosures and evictions involving residents "adversely" affected by COVID-19. That order made clear foreclosures and evictions could move forward in circumstances unrelated to the pandemic, such as for non-payment of rent. But on Sept. 4, the federal Centers for Disease Control and Prevention issued an order to halt evictions through the end of the year "to prevent the further spread of COVID-19."
"(DeSantis') Executive Order 20-211 had provided a limited, one-month extension of state eviction relief to persons affected by the COVID-19 emergency. Executive Order 20-211 pertaining to the state's mortgage foreclosure and eviction relief was permitted to expire to avoid any confusion over whether the CDC's evictions order should apply in a particular circumstance."
_
Please follow CDC guidelines and Orange County advisories to stay safe, and please support this free publication. Our small but mighty team is working tirelessly to bring you news on how coronavirus is affecting Central Florida. Please consider making a one-time or monthly donation. Every little bit helps.