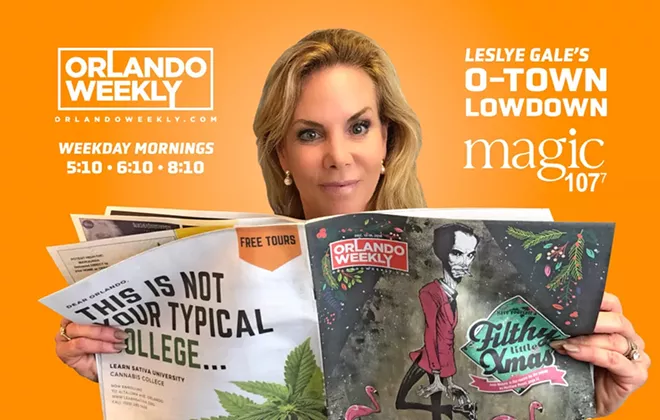 Every morning on Magic 107.7 FM, Leslye Gale discusses the most interesting Orlando Weekly stories of the day on "Chad & Leslye." Check out Leslye's picks today.
Isn't it so 2020 that we have some of the best weather we've ever had on a Halloween yet Covid is keeping many of us at home? Fortunately, some things are even bigger than a pandemic and one them will be visible this weekend. –
LINK
Almost as popular as a perfect Harvest Moon, Orlando's Burger Week is back and here's where you can get a great burger for just 5 bucks! –
LINK
This should come as great news to all of the people forced to drive I-4 from Tampa to Orlando. The private rail system Brightline says they'll be up and running by 2025. –
LINK
Check out more stories at OrlandoWeekly.com. Leslye's updates are every weekday morning at 5:10, 6:10, and 8:10 a.m. You can listen to Magic 107.7 live online.
–
Stay on top of Central Florida news and views with our weekly newsletters, and consider supporting this free publication. Our small but mighty team is working tirelessly to bring you Central Florida news, and every little bit helps.