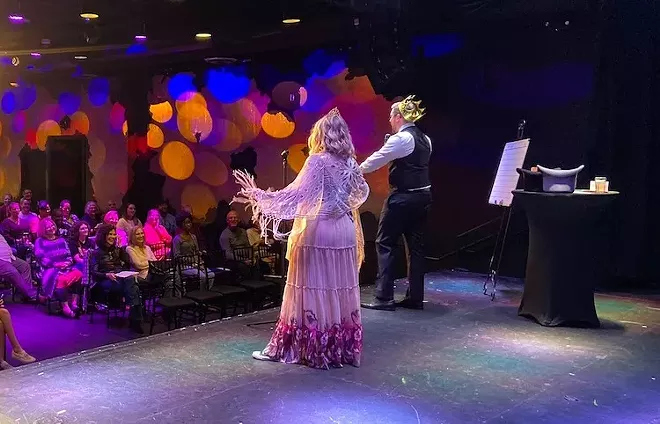 Photo courtesy Orlando Story Club/Facebook
The Orlando Story Club at the Abbey, when indoor live shows were still a thing
Orlando Story Club
is back, ready to close out the year with an outdoor storytelling contest, and we'd imagine people have
a lot
to share from this particular year.
This Wednesday, Dec. 9, OSC is putting on "A Gift" at 6:30 p.m. outdoors at the CityArts Courtyard (the alley between the big green Rogers-Kiene building and the Harp & Celt pub) in downtown Orlando.
If just attending the event isn't enough for you, come armed with a story relating to the evening's theme — "A Gift" — and throw your name into the story hat. Both storytellers and a trio of judges (from the audience) will be randomly selected for the evening. First, second and third place winners receive prizes.
"Doors" open at 6:30 p.m. Tickets are $5 and proceeds from the event benefit the Downtown Arts District.
Grab a ticket in advance
because this is a limited capacity event.
Orlando Story Club's haunted Halloween tours through Mead Gardens paired safety and entertainment deftly, so we'd imagine this event will be much the same.
Masks are required and there will be individual microphone covers for each participant.
_
Please follow CDC guidelines and Orange County advisories to stay safe, and please support this free publication. Our small but mighty team is working tirelessly to bring you news on how coronavirus is affecting Central Florida. Please consider making a one-time or monthly donation. Every little bit helps.