will be closing nightly
for construction through Feb. 8.
Beginning tonight at 10 p.m. and running nightly through next Monday, Ivanhoe Boulevard under I-4 will be closed in both directions for I-4 Ultimate-related construction work. The stretch of Ivanhoe will reopen at 5 a.m. every morning.
With no lanes open, drivers are suggested to detour onto nearby routes (as seen below) to safely continue travel. Spoiler alert: This will tax your patience, but drive safely.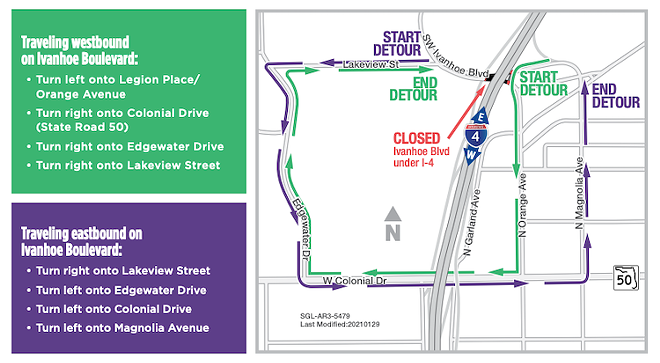 Screen capture courtesy I-4 Ultimate Project
A
map of the relevant detours and rerouting
options can be found at the I-4 Ultimate website.
–
Stay on top of Central Florida news and views with our weekly newsletters, and consider supporting this free publication. Our small but mighty team is working tirelessly to bring you Central Florida news, and every little bit helps.