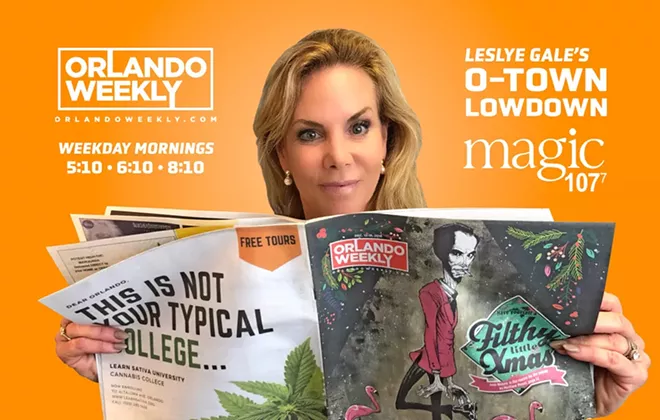 Every morning on Magic 107.7 FM, Leslye Gale discusses the most interesting Orlando Weekly stories of the day on "Chad & Leslye." Check out Leslye's picks today.
We're moving in the right direction as far as COVID vaccines are concerned.
At Orange County's latest briefing, Mayor Jerry Demings said three separate FEMA-run vaccine sites will open tomorrow in the Orlando area. Here's where —
LINK
Also on Monday, Florida Gov. Ron DeSantis cleared the way for police, fire fighters and K-12 teachers over the age of 50 to receive the vaccine. –
LINK
There won't be windmills and clown faces, but Tiger Woods' new putt-putt golf course in East Orlando will have you teeing up for a hole in one. It's called PopStroke. – LINK
Check out more stories at OrlandoWeekly.com. Leslye's updates are every weekday morning at 5:10, 6:10, and 8:10 a.m. You can listen to Magic 107.7 live online.
–
Stay on top of Central Florida news and views with our weekly newsletters, and consider supporting this free publication. Our small but mighty team is working tirelessly to bring you Central Florida news, and every little bit helps.