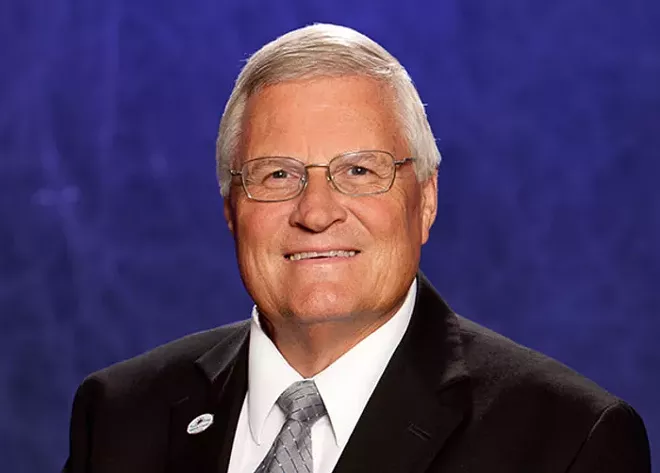 Photo via Volusia County
Fred Lowry, a Volusia County councilman who called the pandemic a hoax, is currently hospitalized with COVID-19.
A
QAnon-supporting
Volusia County councilman is currently hospitalized with COVID-19, just a few short months after he called the pandemic a hoax during a sermon at his church.
66-year-old Fred Lowry is in the middle of his second term on the council and serves as the senior pastor of Deltona Lakes Baptist Church. His fellow councilmembers reported during a meeting that he's been hospitalized with complications from coronavirus since Monday.
"He is in the hospital wrestling with COVID-19," said County Chair Jeff Brower, per the
Daytona Beach News-Journal
.
In a text to that paper, councilwoman Billie Wheeler said that Lowry had been sick for several weeks.
"He has been sick for around two weeks and got the antibody (treatment) last Friday and went to the emergency room late last night," Wheeler said.
During a sermon this summer, Lowry told his congregation that the pandemic was cooked up and referred to
Anthony Fauci as "Dr. Falsey."
"We did not have a pandemic, folks. We were lied to," Lowry said, before launching into conspiracy theories about satanic cabals of elites and disbelief in global warming.
–
Stay on top of Central Florida news and views with our weekly newsletters, and consider supporting this free publication. Our small but mighty team is working tirelessly to bring you Central Florida news, and every little bit helps.