ADVERTISEMENT. Orlando Weekly news staff was not involved in the creation of this content. Please note, this report is not meant to treat or diagnose any illness.
Covid-19 has given rise to unprecedented challenges, including the need for families to shelter at home for lengthy periods of time. And this leads to a new issue that families need to confront – tough-to-eliminate odors. Here is where Biocide Systems' remarkable line of products comes in, chief among them the popular Room Shocker™. Whether nasty odors come from cigarette smoke, spoiled foods, unwashed clothes, lingering garbage, pets, teens or mildew, in times like these the Room Shocker™ from Biocide Systems can become your family's best friend.
Because home professionals such as property managers and real estate agents have trusted the Room Shocker™ to destroy odors, families everywhere can turn to the Biocide Systems product with complete confidence. That's because Biocide Systems has perfected a breakthrough Chlorine Dioxide-based technology and triple-patented delivery system that not merely masks, but thoroughly eliminates odors hiding deep inside any porous surface – effortlessly and effectively.
All other products on the market only clean the air or the surfaces, which is why the odors always come back. Ionizers, ozone machines, sprays and mists simply do not have the reach and penetration of Room Shocker™, where its proprietary Chlorine Dioxide technology and unique, easy-to-apply delivery system seeks out and eliminates odors hiding deep inside any porous surface.
Biocide Systems also takes its powerful odor-eliminating technology outside the home and into the car with its popular Auto Shocker™. Just as the pro's in the housing industry turn to Room Shocker™ to permanently get rid of tough odors in the home, top car rental agencies – whose businesses rely on the utmost cleanliness of their vehicles – make Auto Shocker™ their exclusive go-to solution to thoroughly eliminate odors in preparation for their next rental customer.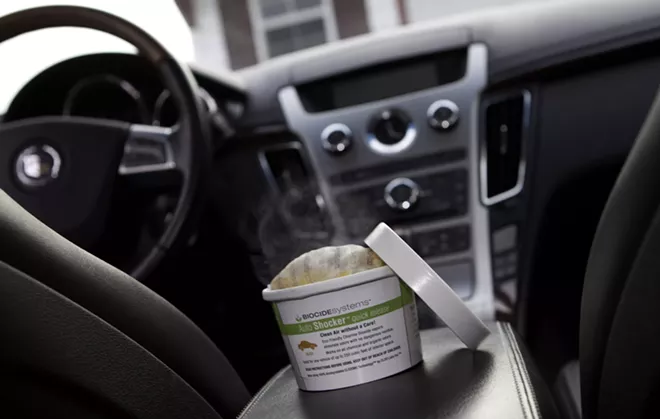 Developed for any vehicle interior, whether Compact, Full Size or SUV, Biocide Systems Auto Shocker™ works like a fumigation smart bomb as it effectively gets behind the dashboard where other products can't reach - and eliminates the odors effectively and safely. Auto Shocker™ literally seeks out odor causing molecules then goes to work permeating the headliner, visors, seat cushions, glove compartment, carpet, floor mats and all nooks and crannies where odors get trapped. The product even clears out HV/AC unit mildew and musty stale odors.
The Auto Shocker™ and Room Shocker™ are available for immediate purchase and home delivery from Biocide Systems website https://www.biocidesystems.com/. Get your order in today – and clear the air for good tomorrow.
–
The statements made in this sponsored post are those of the paid sponsor and not those of Orlando Weekly, and are not intended as medical advice. Consult your doctor before undertaking any changes to your physical, mental or dietary health.