Page 3 of 3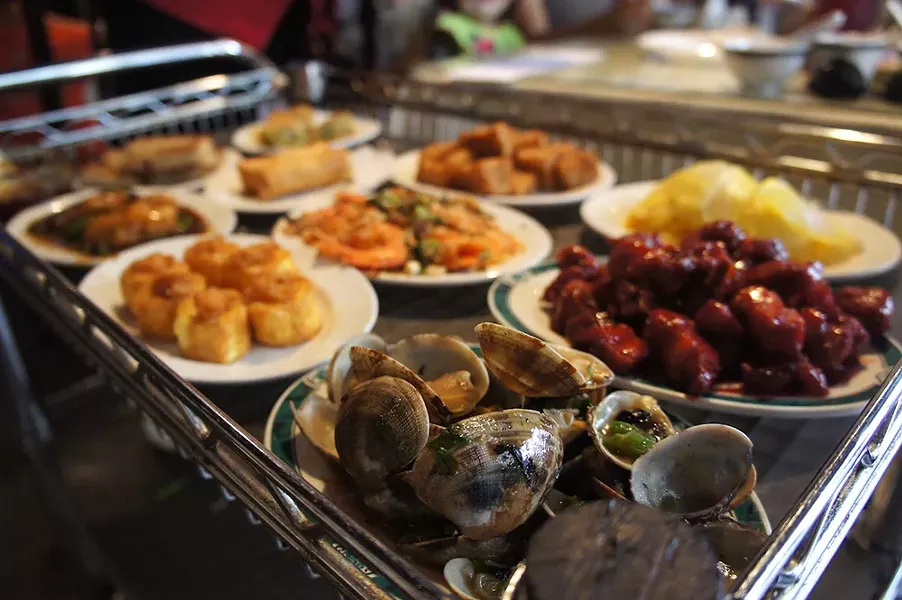 Photo by Ricky Ly
Dim sum, Ming's Bistro
CHINA:
Dim sum may seem like a cost-conscious option – dishes are between $2-$5 and meant for sharing – but if you're not disciplined when that cart comes rolling around, expect a hefty bill. It adds up, but it'll all be worth it, especially at some of the dim sum houses around Mills 50. Show up before 11 a.m. to make sure you get a seat. Dim sum is a marathon, not a sprint, so waiting for a table could take some time if you lounge around the house too long. Grab some friends and a giant round lazy-Susaned table, and start plucking translucent rice-paper dumplings, char siu bao, shrimp-stuffed siu mai and glistening chicken feet from the carts that roam Chan's Chinese Cuisine, Ming's Bistro and Lam's Garden. If you find yourself around the attractions area, iShanghai's dim sum starts at noon and it's the only place in town with soup dumplings. Over in West Orlando, Mr. Wong's Family Taste begins dim sum service at 10 a.m. on weekends, and the chive pancakes and oblong Chinese eggplants stuffed with shrimp will be the talk of the table.
MEXICO:
Transplants from the Left Coast and Southwest often decry Orlando's lack of quality Mexican grub, but that's starting to change – if you know where to look. Two tiny spots on either side of town offer truly authentic breakfast options, from chilaquiles to breakfast tacos to chorizo-and-egg scrambles. At Tortilleria & Restaurant La Mexicana on Oak Ridge Road and Texas Avenue, prepare for two-for-one margaritas all day, starting at 6:30 a.m. (you read that right). Similar offerings are found at La Hacienda Market and Taqueria on Aloma Avenue in Winter Park. Upscale Tex-Mex brunch can be found on the patio at Cocina 214, the ideal spot for lazing with a $3 mimosa or a specialty margarita, and if your weekend morning brain can stand the raucous atmo of Rocco's Tacos and Tequila, we suggest washing some huevos rancheros down with a shot of sangrita. Colibri Mexican Bistro in Baldwin Park (and the new location in SoDo) has just started serving weekend brunch, and the "huevos benedictinos" – corn tortillas topped with refried beans, carnitas, hollandaise sauce and two poached eggs – is what desayuno dreams are made of.
ITALY:
The good Lord in His infinite mercy has blessed us with Pizza Bruno, and a couple of months after this temple of pizza opened, they added brunch service. And there was much rejoicing. The menu for Bruno's brunch changes weekly, so there's no guarantee your favorite thing from last week will be there this week (kinda like those garlic knots), but the breakfast "sammy" is pretty much the best thing we've put in our mouths before noon in forever. Fontina cheese, a fried egg, arugula, pepperoni jam and the world's most underappreciated meat, mortadella, are all sandwiched into an "everything" potato roll. Come. On. Now. Al Bacio on Park Avenue also puts away the pasta in favor of breakfast alla italiana. A few authentic Italian specialties are on the morning menu, including a pesto omelet; crostata with ham, cheese and spinach; and a house-made jelly-, chocolate- or cream-filled pastry. Sister restaurants Brio Tuscan Grille and Bravo Cucina Italiana both feature a Sicilian omelet on their menus, full of ham, bacon, sweet Italian sausage, tomato compote, caramelized onions and three cheeses.
LEBANON:
Fighting tourist traffic first thing in the a.m. might not sound like an A-plus idea, but the Lebanese brunch at Paramount Middle Eastern Cuisine is an excellent raison de guerre. (Also, there's free parking just steps away in a giant covered garage.) On weekends, the halal restaurant opens at 8 a.m. for a special menu section. Generally, breakfast is served, but on Saturday and Sunday, patrons of Paramount are treated to foul and fatteh, two traditional chickpea-based Lebanese breakfast dishes. Add beef shawarma or a plate of labneh yogurt with pita for a complete meal.
DEEP SOUTH:
Brunch was born in the U.S.A., and so was Southern food, so it's appropriate to include our only native cuisine in this list. It's exciting that previously lowly breakfast dishes like shrimp and grits and biscuits and gravy are having their day in the blistering Florida sun. Grab a 40 of Cask & Larder beer and sit down at a communal table at Swine & Sons Provisions to nosh on one of their rotating breakfast specials: We particularly love the biscuit sandwich with Tennessee-style cured ham, cheddar and tomato jam. Next door at the Ravenous Pig, either show up on the first Saturday of the month for the pig roast, or on Sundays starting at 10:30 a.m. for the à la carte brunch: The chicken and cornbread waffles with Nashville hot honey glaze and pickle relish are a go-to. Short-rib hash and sweet-potato pancakes are on the griddle at Soco in Thornton Park, where you should definitely sit on the patio and watch people parade their pups to and from the Lake Eola Farmer's Market on Sunday mornings.