We can't afford to buy conversation hearts for the whole city, but every Valentine's Day we like to devote some space to singing the praises of our current local crushes. People We Love is all about giving recognition to those Orlandoans (and Winter Parkers, Sanfordistas, etc.) who make the city worth living in, but don't necessarily get a lot of shout-outs.
Our current baes are known for wrangling reptiles, dropping knowledge and providing spaces for others to express their creativity, among other things. Each one is dedicated to the community in some way or another, contributing to the social tapestry that makes Orlando what it is.
We've picked a pretty good crop this year, so after you're done getting introduced via our little love letters, make sure to seek them out to get some firsthand experience in whatever they do. We think you'll be impressed.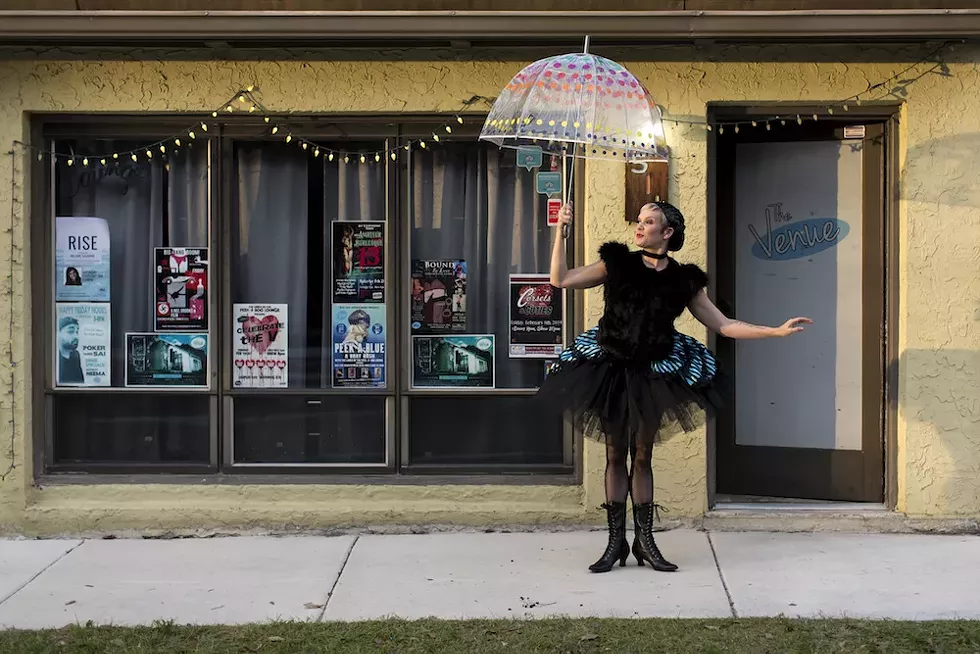 Blue Star
Choreographer and LGBTQ advocate | For dancing as fast as she can
Blue Star may be known as "Orlando's Mother of Burlesque," but if you ask her, she'll let you in on a little secret: "I always thought of myself as a drag queen, not a burlesque dancer," she confesses. "I'm not traditionally burlesque, I just do my own thing. But what a beautiful world it is, and what a beautiful community we've built here."
Community is the keystone of Blue's journey in Orlando, which has seen her evolve from a club-culture iconoclast into an LGBTQ advocate on a national stage. Her story started in Marietta, Georgia, where she was born with a hip deformity. "I started dancing because I was born completely turned in," Blue says. A doctor suggested dance to correct the condition, a free YMCA dance lesson led her to begin professional ballet training at 13, and she was a principal dancer in Atlanta by age 19.
At 26 she moved to New York City "to get lost among 7 million people," where she studied contemporary dance with Mia Michaels and learned to DJ by watching Danny Tenaglia spin. After a chance conversation with a roommate's friend, she came here to attend Full Sail for audio engineering and almost immediately discovered Orlando's LGBTQ club scene. "I moved here on a Tuesday, went to Southern Nights on a Friday, [and] I started the next day."
Blue was quickly upgraded from go-go dancer to MC, eventually overseeing a schedule of still-running evenings like Lesbo-a-Go-Go and Dirty Bingo and establishing her popular performance troupes, the Ladies of Peek-a-boo Lounge and VarieTease. "I was going to be here a year and a half, and it's 19 years in July," she recalls. "There was room for growth, and I saw the opportunity to be at the forefront, rather than a little fish in a big pond."
Blue's evolution from artist to activist began with her participation in the Hope & Help Center's annual Headdress Ball and the SMART Ride for AIDS, and kicked into high gear once she co-founded the Barber Fund for cancer patients with the late John "Tweeka Weed" Barber. But it was the work she did in the wake of the 2016 Pulse Nightclub massacre that drew nationwide attention and cemented Blue's place in Orlando's hearts. "We just did what we were called to do," she says about her role as an organizing anchor after the tragedy. "You just react the best way that you know how, and I think for me a coping mechanism is to get to work."
Blue's philanthropy has been recognized with the 2018 Harvey Milk Diversity LGBT Trailblazer Award from the Center Orlando, and inclusion in Orlando Magazine's 2018 "Women of the Year" list, among other honors. But even these accolades may not keep a roof over her head. The Venue, Blue's Ivanhoe Village theater, will be bulldozed this fall and she's actively searching for a new home. "The positivity coming from the community is just wonderful,"she says. "We've had some really great suggestions and I still have a lot of plates in the air." For all of Orlando's sake, we hope Blue Star keeps them spinning.
Desmond Meade
Voting rights leader | For fighting to restore the vote to ex-cons
In November, Desmond Meade led a movement that persuaded Floridians to vote in favor of enfranchising the largest number of people since the women's suffrage movement and the federal Voting Rights Act of 1965. Three months later, the role he played in getting the right to vote back for about 1.5 million formerly convicted felons still hasn't quite sunk in.
"It was an honor and privilege for me to be able to be involved in such a historic win with Amendment 4," he says.
Meade, 51, is the president of the Florida Rights Restoration Coalition – one of several groups that targeted a draconian state law with racist roots in the Jim Crow era that barred people who've completed their felony sentences from voting. Meade's work began one day in August 2005 when he stood in front of railroad tracks in South Florida, ready to hurl himself in front of the next oncoming train. He was homeless, addicted to drugs and recently released from prison after serving time for a felony conviction.
"I didn't have any hope or self-esteem," he says. "The train didn't come that day, so I crossed those tracks and checked myself into drug treatment."
After completing his treatment, he went back to school, eventually getting his law degree from Florida International University. But he couldn't apply to the Florida Bar until his rights had been restored, or even vote for his wife, Sheena Meade, when she ran for the Florida House.
Determined to help others, Meade knocked on doors, collected petitions and became one of the driving forces behind putting Amendment 4 on the ballot. On Nov. 6, the amendment won close to 65 percent of the electorate with about 5.1 million votes – more than any candidate on the ballot.
On Jan. 8, Meade's teenage daughter Xcellence helped him fill out his voter registration form at the Orange County Supervisor of Elections office among cheers as other returning citizens also registered to vote.
"People in Florida and the rest of the country got to witness love winning the day for once in this election," he says. "And that's something that I will hold onto for the rest of my life."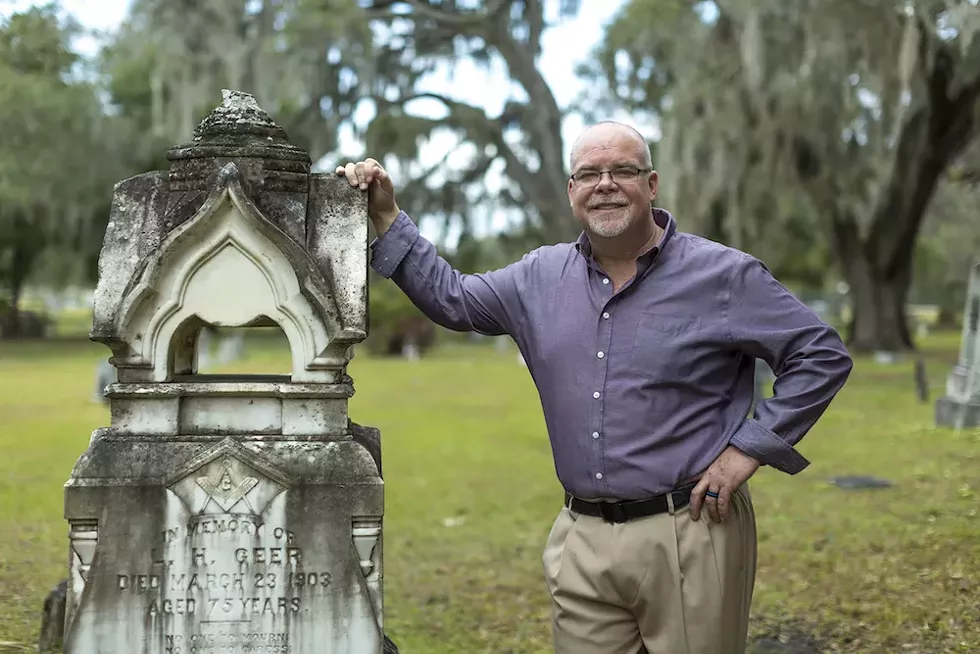 Don Price
Local historian | For keeping history alive, even when surrounded by the dead
What can be said about the wild and wonderful Don Price that hasn't already been? He's a locally famed Orlando orator and storyteller who spent 31 years working in the city's records department, where he picked up tidbits of indispensible community history. He's the type of guy who, if you sat down together to share a story and a 12-pack of beer, the beer would be gone before the story had ever ended. He's a dumpster diver – well, we can confirm he was at least once, when he scavenged a long-lost documentary about pre-Civil Rights era Parramore from the bottom of a dumpster at City Hall. Titled "Orlando, the City Beautiful" and dated 8/8/1962, the short film revolves around the Parramore neighborhood at a time when amenities like indoor plumbing were scarce in homes throughout the traditionally African American community. He's since digitized the film and hosted at least one screening.
But that's just who Price is – an affable, heavily tattooed redneck of the highest order, as moderately flamboyant as he is endlessly curious about the world around us, especially as it relates to the City Beautiful. If you've heard of him, it's likely due to his time as sexton at Greenwood Cemetery, where he worked for 15 years prior to his retirement in October. A Winter Garden resident who grew up in West Orange County, it was through that job at Greenwood – a job that would become equally a passion project – that Price developed a reputation for keeping local history alive and well.
Even in retirement, he continues to lead his mega-popular nighttime tours of Greenwood that began in 2004. On these walking and talking tours, he points out facts pertaining to everything from Lake Eola's original Sperry Fountain to the closely quartered graves of Dr. John McEwan and his mechanic – McEwan didn't trust newly invented cars in the early 1900s, so he brought his mechanic everywhere. As a symbol of their friendship, or more, they were buried next to each other.
"People die twice," Price says during one of the cemetery tours. The first time, he says, is when you take your last breath. The second is when your name's forgotten.
"In Orlando, we like to tear our history down," Price says. "It doesn't bother anybody. Go to Savannah and try to tear something down. Go to Charleston and try to tear something down. It won't happen."
Price shakes his head in disapproval and adds, "But in Orlando it's easy because no one's from here."
That's why Price is a crucial local figure. If he has anything to do with it, when it comes to the candid history behind the City Beautiful, it won't be forgotten anytime soon.
Gina Duncan
Trans rights advocate | For opening hearts and minds
It's hard to track Gina Duncan down.
The director of transgender equality for Equality Florida, the state's leading LGBTQ civil rights organization, is busy wearing many different hats. She teaches trans cultural competency training to small workplaces and major corporations. She chairs TransAction Florida, a 27-member advisory board from all over the state that advocates for trans rights and protections through public policy. And some days, Duncan goes to Tallahassee to remind state lawmakers that she and other trans people deserve respect – not simply acceptance.
"I don't want you to accept me," she says. "I want you to treat me equally as you feel about yourself. And asking for acceptance kind of speaks to that person having power over you, like saying, 'I will accept you or I won't.' Well, too bad. Either way, I'm going to be me, you be you, and if we respect each other's identities and our hearts, then that's good."
The 63-year-old Orlando resident has concentrated on building a solid support structure for Florida's trans community, the kind that didn't exist when she started transitioning in 2006.
Before, Duncan was known as the captain of an undefeated Merritt Island High School football team, homecoming king and student government vice president at East Carolina University. The life she had was "common Americana," she says, with a beautiful wife, two kids and a regional manager position at Wells Fargo.
That changed after she came out – her support came mostly from close family members and her employer, though some days were tough. After she was profiled by the Orlando Sentinel, Duncan got a call from the local steering committee of the Human Rights Campaign because they needed more visible transgender voices in town.
The connection launched Duncan on a path of advocacy and activism. She's been president of Orlando's LGBT chamber of commerce, the Metropolitan Business Association, done a TED talk and even ran for Orange County Commission in 2012. After a gunman killed 49 people at the gay nightclub Pulse in 2016, she comforted the community and helped expand Equality Florida's advocacy to include gun reforms.
"The most gratifying thing is feeling like you're moving the needle at least a little bit," she says. "My goal is if I can open a heart and a mind a day, then I've done my job."
Jenn Harton
Bartender, Lil Indies | For giving Orlando drinkers their favorite bar exam
Jenn Harton never wanted to be a craft cocktail bartender.
"I was honestly terrified ... I didn't want to bartend on the Lil Indies side because it was so scary," she says. "I wanted to work at Will's and do, like, Jack & Coke, vodka soda, rum and Diet, things like that." But fellow bartenders Lianne Hayre and Kaitlin MacGavock taught her how to get over that fear. "Lianne is the reason that I got over being scared and got into making cocktails."
Since discovering her talent for mixing classic and brand-new cocktail recipes, Harton has become one of the city's most popular bartenders, winning the vaunted Best Bartender category in Orlando Weekly's Best of Orlando poll for the past three years in a row. But not everything she makes is popular.
"My favorite [cocktail] that I've ever come up with was honestly one of the lowest-selling drinks," she admits about her favorite creation so far, the Wild Hunt. "I did a butter-washed scotch with sweet potato juice and maple and cherry simple [syrup]. ... It was a great cocktail!"
Lil Indies also has a reputation for creative cocktail names, and Harton's favorites have been based on professional wrestling moves. "The Montreal Screwjob was a really fun one," she says. "Hurricanrana, which is a signature luchador move."
Harton's bartending résumé goes back to working under the original owners of Maitland's Copper Rocket, so she's seen plenty of change in the area's bar scene.
"Honestly, Will's getting liquor was huge for the area," she says about the Mills 50 district.
But part of the area's success she credits to having good neighbors. "Guesthouse opening up has been awesome for Mills, because having an anchor like us and then an anchor like Guesthouse that has very different demographics, there's much more foot traffic and barhopping going on," she says. "I think it fosters community."
Joshua Martin
Film programmer | For opening our eyes to the (dis)comfort of strangers
Known mostly for the long-running Uncomfortable Brunch monthly film series at Will's Pub, Joshua Martin also helps program the More Q Than A series at the former Gallery at Avalon Island, as well as themed marathons at the Milk District's Nook on Robinson. His involvement in curating movies even extends to selections committees for the Florida Film Festival and Slamdance.
But Uncomfortable Brunch developed accidentally, in Martin's own living room, starting off with just he and his roommate watching Nagisa Oshima's In the Realm of the Senses while eating blueberry pancakes and drinking mimosas. The pairing of arthouse cinema with a pleasant social activity struck a chord with Martin, and the monthly gatherings eventually moved to Will's Pub. "I thought it was an idea that would just die. Like movie nerds would think it's funny for a few months." But Uncomfortable Brunch is still going strong in its fifth year.
Martin is quick to credit a lot of that longevity to the perspective of his partner in Uncomfortable Brunch. "It was a huge benefit when Kat Whitacre came on board a few years ago, because while our sensibilities are similar, they are very different in some respects. There've been times when we've shown stuff that I flat-out didn't want to show," says Martin. "But she said 'No, this is a movie that fits what we're doing and people are going to be into it.' And then it's standing room only."
In an entertainment landscape with seemingly endless options for viewing formerly hard-to-find films from the comfort of a living room, Martin is "still a big proponent of watching movies together in a room," he says. "It's hard to articulate, but there's just an energy in the room that's different when you watch with other people, especially strangers."
Ryan Rivas
Book publisher and literary community builder | For working tirelessly to get Orlando on the same page
The image of a city, in the minds of people who've never been there, is formed by writing about that city – whether it's fiction, film script or news reporting. In Orlando's case, that means a whole lot of people in the world think our city is a tropical paradise peopled by Disney princesses, toothy reptiles and an army of Florida Men. Ryan Rivas, the publisher of Orlando-based literary imprint Burrow Press, grapples daily with the question of what "Florida literature" is.
"There's an assumption that focusing solely on Florida would limit the audience. Of course, the nation has a morbid curiosity about Florida. I see this as an opportunity to subvert that gaze," Rivas says.
"Just like Orlando is misunderstood as a theme park city, I think the phrase 'Florida literature' makes people think of Carl Hiaasen and his brand of wacky crime novels. But Florida lends itself to truthful interpretation through many genre lenses – not just realism set in a Florida city, which can be wonderful, but fabulism, absurdism, sci-fi/speculative, horror, noir," Rivas says. Readers can find writing that embraces Florida in those genres by Karen Russell, Lauren Groff, Laura Van Den Berg, Vanessa Blakeslee, James M. Cain, Padgett Powell, Jeff VanderMeer, Lindsay Hunter, Teege Braune, Alisa Nutting, Kristen Arnett and more – nary a murder-by-stuffed-marlin among them.
Book by book, in novels, story collections and anthologies (including many of the above authors), Burrow Press is helping build that multifaceted image of Florida. From early releases like the various volumes of 15 Views of Orlando and 15 Views of Miami to We Can't Help It if We're From Florida, Rivas says, BP has made an effort "to blur the line between local and national by featuring writers who grew up in Florida but have gone on to do great things in the national literary world."
A natural extension of this has been to organize readings and events that contribute to or even strengthen the literary scene. Rivas works with host/MC Jared Silvia to put on Functionally Literate, which matches local writers with national authors in loosely linked subject matter, and Loose Lips, in which a different host each month invites writers to share new work inspired by the last 30 days of news.
"Lately I've been thinking about a more abstract, lower-case-F 'florida literature' that isn't place-based but nonetheless expresses the textures and tensions we associate with Florida experiences," Rivas says. "Stark contrasts like gritty/glossy, natural/manmade, rich/poor; hidden or erased histories; actual displacement and/or emotional estrangement as a result of tourism." Despite being so attuned to the displacements and estrangements endemic to this city of immigrants and transplants, Rivas wouldn't change much.
"In 10 years I'd love to see just as many art and literary spaces as there are craft breweries and coffee shops, though I'd settle for affordable housing and public transit," he says. "I don't have a desire to change the city. Just to keep doing what I'm doing."
Savannah Boan
Radio star and wildlife educator | For demolishing assumptions about blondes, gators and Orlando
Though Savannah Boan is not an Orlando native, she is a uniquely Central Florida phenomenon. The 6-foot platinum blonde has one of the most recognizable voices in Orlando and a knack for self-reinvention up there with David Bowie. But her latest incarnation as an ambassador for Gatorland is her most rewarding and personal mission yet.
Boan moved to Orlando after a four-year stint in the Marines as an air traffic controller and soon enough landed a spot on Real Radio's "Monsters in the Morning." "One of my most favorite things about Orlando was from the time I hit the ground here, people were so welcoming," she says. "It was almost like coming home."
This was at the height of talk radio's popularity, and the Monsters were a local equivalent to Howard Stern. Boan, dubbed "the Sexy Savannah," was anything but mere ear candy, going toe-to-toe with her co-hosts in epic verbal beatdowns made all the more memorable by her thick Southern drawl.
Eventually it was time for a change. Boan left Orlando for California, working in a reptile zoo at one point and realizing that she'd found her true calling. She returned to Orlando and secured a dream job at old-Florida tourist stalwart Gatorland (and also returning to the WTKS airwaves). In her role as Gatorland's International Ambassador, Boan runs and stars in the park's various social media outlets – their YouTube channel is particularly eye-popping.
Boan is not at all afraid to get up close and personal with the park's feature attractions; she is the only woman in the park who handles the big gators, and her infection and enthusiasm for these reptiles is beyond infectious. "Every day I work in the most magical place in the word," she enthuses. "I'm so excited when I wake up in the morning!"
Besides doing a heroic amount of local outreach and helping develop a conservation arm for the park, she's taking her mission to all sorts of unlikely places. Last year she journeyed to Cuba to share ideas and supplies with crocodile experts there as part of a continuing partnership. Then she took a trip to the Crocodile Specialist Group in Belize. There is serious talk for a journey to India to work with the Madras Crocodile Bank.
Closer to home, at the end of 2018, she took the nerve-wracking plunge and presented a TED Talk at TEDxOrlando (find it on YouTube, naturally). Her enthusiasm and energy are seemingly boundless. And Boan credits the love and support she gets from the city at large as a large part of all of this.
"I've lived so many crazy lives!" she laughs. "I never would have pictured all of this for myself. But I'm so happy for it!"
Lou Brown
Manager of Uncle Lou's Entertainment Hall | For giving Orlando punks a place to do it themselves
You could consider Uncle Lou's Entertainment Hall as Orlando's CBGB – though that's too drenched in nostalgia for a venue that operates very much in the continuous now – but, like the New York bar did for its neighborhood, Lou's has served as a crucial incubator for the Central Florida underground for the last 14 years. The frills are few and far between in the stripped-down space, though the drinks are cheap, the PA is loud, and the mural of Etta James on the wall is always a welcome sight. But it's the good-natured "anything goes" spirit that really defines Uncle Lou's.
Lou "Uncle Lou" Brown, the manager and face of the establishment, moved to Florida from Jamaica 33 years ago, first working in agriculture in Belle Glade before moving to Orlando. Uncle Lou's Entertainment Hall opened 14 years ago in the heart of the Mills 50 strip, after a year on Michigan Avenue. Brown still remembers the day that some young punks (naturally, Total Punk's Rich Evans and company) asked if they could play a show at his bar, to which he readily agreed: "I wanted to provide a place for people to do positive things."
With a smile he recalls that the music and the volume that fateful night shocked him: "It was the most terrible thing I ever heard! I thought, what have I got myself into?" Word spread quickly that this was an ideal place for bands on a razor-thin DIY budget, and it was off to the races with a packed booking calendar that remains so to this day. Brown has warmed to the varied music (from metal to hardcore to experimental to hip-hop) that blasts out of the doors of his venue nightly, expressing a particular fondness for punk rock, especially locals the Golden Pelicans and Wet Nurse.
Brown speaks fondly of the music community that has embraced him, and that he in turn has generously fostered. "Music is love," he says, wryly adding, "The Orlando music scene knows how to have a good time." He talks about neighbor Will Walker of Will's Pub with a particular gratitude for "always being there when I need him," and calls longtime scene fixture Nadeem Khan his best friend. Khan is quick to return the favor, enthusing, "Uncle Lou is a treasure of a man, a sober gent that's given something to us I thought I'd never see again."
As the Mills 50 strip changes around him, Brown responds by not changing a damn thing. He never charges bands to run shows there and he isn't bothered with prettying the place up; he's more focused on giving bands a chance, providing a safe environment and keeping the music coming. He says he'd like to stay here as long as he can – "Hopefully Will's and Uncle Lou's will always be here" – with the underlying hope that he's "providing a place for people to do good." And there are precious few in this city who can bring people of all persuasions together the way Uncle Lou can.
Wilna Destin
Union organizer | For fighting to make Disney a magical place for all, not just some
In 2021, a housekeeper working at Walt Disney World Resort will make $17 an hour – and that means everything to Wilna Destin.
It's nearly double the amount Destin, 44, earned when she started as a housekeeper at Disney in 2012, and it's been made possible through her work as an organizer with the six Orlando labor unions that reached a historic agreement with Disney to raise starting pay from $10 to $15 within three years.
"Those $15 seemed impossible," the Unite Here Local 737 organizer says. "But at the end of the day, with a lot of positivity, we did it."
The drive to fight for opportunity started in 2000 when insecurity pushed Destin to flee Haiti in a boat to Miami. Once in Central Florida, she worked as an undocumented immigrant, cleaning people's houses for little pay and often facing abuse from her employers.
Her life changed when she applied for Temporary Protected Status (TPS), a humanitarian program that allows immigrants facing armed conflict or natural disasters to live and work in the U.S. Haitians received TPS designations after their island was devastated by a 2010 earthquake.
With TPS, Destin was able to get a driver's license and apply for a union job with health care benefits at Disney.
"Getting TPS was huge for me," she says. "It was like a freedom for my life."
After joining the union, she helped organize Disney housekeepers to get their first raise in 2014 to $9.50. When Local 737 president Jeremy Haicken told Destin and other union organizers that they would next fight for a $15 living wage, they thought it was crazy, she says. Florida's hourly minimum wage has never been higher than $8.50.
But Destin and other organizers knocked on dozens of doors to speak to Disney employees who could barely afford housing, organized petition drives and staged protests in front of tourists. Their persistence finally paid off last year after months of negotiations with the theme park.
Destin is in the second fight of her life now against the Trump administration. She and her 15-year-old U.S.-born daughter are plaintiffs in a lawsuit suing the federal government for abruptly terminating the TPS program for Haitians and setting a July 2019 deadline for them to leave.
"We are hard-working people," she says. "We are America. This is what America looks like. We all come for freedom. We all come for opportunity. All we have to do is keep fighting."