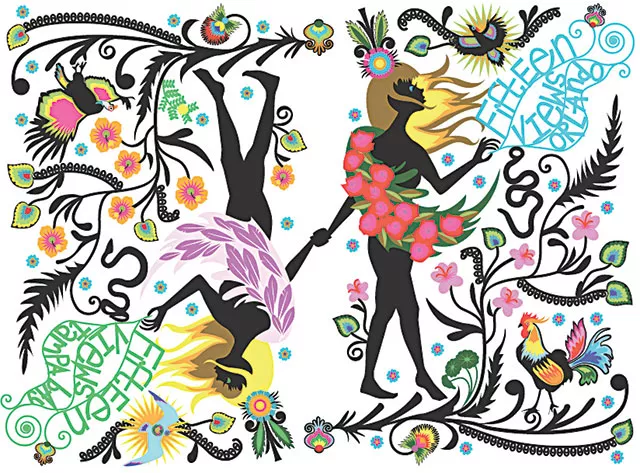 Book cover by Lesley Silvia
15 VIEWS OF ORLANDO, VOL. 2: CORRIDOR edited by Nathan Holic and John Henry Fleming | Burrow Press | 256 pages
15 VIEWS OF ORLANDO BOOK RELEASE PARTY 6 p.m. Thursday, March 28 | Urban ReThink, 625 E. Central Blvd. | 407-704-6895 | burrowpress.org | free
1. Window or aisle?
Always aisle. It's free leg room. For one leg, at least.
2. Dog, cat, or other?
Dog. The more mentally unstable the better.
3. Burrow Press has given us 15 Views of Orlando, 15 Views of Tampa ... any plans to go farther afield? 15 Views of Gainesville? 15 Views of Miami?
15 Views of Miami is actually coming out in November of this year. Jaquira Díaz, the editor, has put together an amazing lineup, which includes John Dufresne, Patricia Engel, and the author of one of my favorite short-story collections, How to Leave Hialeah, Jennine Capó Crucet. Also, 15 Views of Orlando, Volume 3 comes out shortly after that, and features a high-schooler, high-school teachers, young adult novelists and other local riffraff.
4. How about moving outside Florida or even the United States altogether? Or turning inward (15 Views of My Fridge)?
I'm looking into cities outside Florida. We'll probably do something weird for Volume 4. Maybe Orlando/Kiev: Sister Cities! Send your stupid ideas to series editor Nathan Holic. He always looks forward to receiving mail.
5. American cities Marry Boff Kill: Go.
I would marry Orlando. I'd bang San Francisco, preferably on a scuzzy couch somewhere in the Castro. I'd kill NYC. Sorry, friends; you've jumped the shark.
6. Aside from the 15 Views series, what projects are coming up at Burrow Press?
In 2014 we're releasing two story collections: Songs for the Deaf, by John Henry Fleming, and Train Shots, by Vanessa Blakeslee. Both very different and very amazing collections. We have other books in the pipeline, but my attorney advises me to keep my mouth shut.
We're also teaming up with our sister program, Page 15, to publish what will be an annual collection of high-school writing. Tentative theme for 2013: dystopias.
Also, Burrow Press Review (our online lit mag) is going to launch a monthly short story reprint series in the coming months. Also we have four creative writing workshops left in our spring series.
Also we have three more episodes of our quarterly reading series, Functionally Literate. I should say that, on a day-to-day basis, none of the above could happen without Hunter Choate, Nathan Holic, Jared Silvia and, whenever type is concerned, Tina Holmes. Holla!
7. Any new Ryan Rivas projects/stories out in the world? We enjoyed your contribution to the Best American Nonrequired Reading 2012, "South Beach."
If accomplishing everything discussed in question No. 6 doesn't kill me, I'll eventually finish a collection of shorts, fables, parables and Biblical stories about Florida cities, as well as a collection of short stories about teachers. Projected pub date: sometime after the apocalypse.
8. Favorite curse word? Or, favorite substitute curse word when you're in a setting where you can't swear?
Fork.
9. Girls: love it, hate it, or love to hate it? As a writer of essays yourself, it must be nice (or painfully awful?) to see an essayist as a TV character. What did you think of Lena Dunham's New Yorker essay this week?
I'll let you know about Girls when it's available for streaming on Netflix. As for the essay ... I wish the dog character could have been more mentally unstable.
10. In your foreword to the edition, you refer to a certain strain of Florida fiction – Dave Barry, Carl Hiaasen, et al. – as "Flamingo Fiction, or Bermuda Shorts Realism." How about Padgett Powell, Harry Crews, Karen Russell – all of whom, to varying degrees, could be said to be writing Floridiana?
In a much longer essay of mine that no one outside of Florida is interested in publishing, I refer to some amazing examples of Florida fiction, including Padgett Powell, Harry Crews, Karen Russell – also John Brandon, and, oddly enough, Wallace Stevens. … I think what it comes down to is this: When writing about Florida, don't muck around in stereotypes; there is an unprecedented amount of rich territory to explore with thought and honesty. Also, try not to use Florida as an adjective. The Florida heat; the Florida sun – save that for newspapers and sports jerseys.
11. Do you secretly enjoy reading that cartoony Flamingo Fiction stuff? Or is it just an occupational requirement?
I more or less love-hate those books. But I don't read them anymore. I feel like the "Florida Man" Twitter accomplishes what those books seek to do, only with more precision, and sometimes unintentional grace.

12. Were you a big reader as a child?
I hated reading until my 11th-grade English teacher assigned the stories "The Things They Carried," "A Good Man Is Hard to Find," "The Use of Force," and "Where Are You Going, Where Have You Been." After reading those stories, I knew I was forked for life.
13. What's new at Page 15, the public school reading/writing program you mentioned earlier?
Page 15 is always kicking butt. We're in our fifth year of after-school tutoring in Parramore. This very week we're holding our third annual Slam Poetry camp for high-schoolers. My co-worker Phil Zoshak just launched a program called Play 15, where he's got our tutoring kids hooked on playing D&D and writing about their adventures. We've got a huge children's book giveaway happening April 21. Our sixth annual summer writing camp's this summer. Our high-school anthology in the fall. We offer all this stuff to kids for free. Which I think is a pretty radical idea, but no one has called us socialists yet.
14. Tell us about the making of the 15 Views V2 book trailer (below). Any plans to do this for all your books from now on?
The book trailer was made possible by writer/film wizard Jonathan Kosik. He made the whole process seem easy and was also responsible for the rooster wallpaper, which should not, the label warns, be used to make children's pajamas. I hope he agrees to help out with future trailers and other visual endeavors.
15. Which Rocky is best: I (Yo Adrian Rocky), II (beats Apollo Creed Rocky), III (Mr. T Rocky), IV (Ivan Drago Rocky), V (Tommy Gunn Rocky), Rocky Balboa (plastic surgery Rocky),or some to-be-determined scientifically Petri-dished cyborg Rocky of the future?
I choose Rocky Road, currently in pre-production. It's a cross between all the Rocky flicks and Cormac McCarthy's The Road. All the past Rocky villains will play dog-fur-clad cannibals in some doomsday cult. I see it as a comedy, though, like how some of Shakespeare's tragedies can be read as comedies. You know, funny stuff. Spoiler alert: Everyone dies.