The best way to stay grounded and busy for the rest of the Trump administration is to help those who are probably going to need it in the next for years. From what we've seen so far, this administration has already started chipping away at voting rights, environmental protections, Title IX requirements, climate change policy, public education and workplace protections. Communities in need now more than ever include immigrants, LGBTQ youth, the working poor, POC and the disabled.
We've put together a list of local, state and national organizations working to shore up protections in these areas, including six profiles of local leaders working to effect change. They need your help and support, whether you can give time, money or both.
Photo by Deanna Ferrante
Rasha Mubarak
Council on American-Islamic Relations
You already know the Council on American-Islamic Relations as the national Muslim civil liberties and advocacy group suing the Trump administration to stop what they call the "Muslim Exclusion Order."
You may not have known that our state's chapter, CAIR Florida, supports these legal efforts by providing training to a wide range of people, and not just Muslims.
CAIR Florida teaches "Islam 101" courses for law enforcement officials, and "know your rights" workshops for civilians. They provide cultural competency training for doctors who see Muslim patients, and personal safety training at community centers. They help serve Muslim children through partnerships with organizations like Big Brothers/Big Sisters of South Florida.
Rasha Mubarak, the Orlando regional coordinator for CAIR Florida, says these collaborations have grown and emboldened "the movement family" in Central Florida.
Mubarak and a handful of local activist leaders organized a successful protest inside Orlando International Airport on Jan. 29. The event made news and brought pro-immigrant demonstrators within earshot of the families of Syrian and Iranian travelers being questioned by U.S. Customs and Border Patrol.
Many protesters heard about the action through online forums usually dedicated to UCF student progressive groups, Black Lives Matter and LGBTQ advocacy.
"These relationships have been built over time, over being there together," says Mubarak. "By joining one movement, you learn about other people doing great work without reinventing the wheel. None of us are free so long as any of us are oppressed."
CAIR and CAIR Florida need donations and volunteers, but Mubarak says there are other important ways for people to help.
"We encourage people to donate but we also ask for support in the form of coming out to our events and inviting us to participate in your conversations, letting us now how can we provide our support at your organization or community center," Mubarak says. "There are always volunteer opportunities like tabling with us, helping us set up new events, and making allies and connections with different interfaith groups and support groups."
Mubarak also recommends following CAIR Florida on social media, as well as following related groups like the Support Central Florida Muslim Community, Floridians Responding to Refugees and the Muslim Woman Organization.
"Let us know how we can be there for you, too." - DP
Florida League of Women Voters, Orange County
The League of Women Voters was founded right before women got the vote in 1920. The women's suffrage movement had gone on for decades, and once founders of the organization suspected that the vote was on the horizon, they realized that this huge portion of the country needed to be educated about the voting process and the issues of the day.
"That is the founding mission of the league and the mission we continue to fulfill today," says Sara Isaac, the co-president of the Orange County chapter of the Florida League of Women Voters.
Today, the league has grown to become one of the leading civic engagement organizations across the country. The chapter here in Orange County is the largest in the nation, with more than 700 members and still growing.
Both men and women of any party are free to join: The League is nonpartisan.
"What that means is that we don't support particular parties or particular candidates," Isaac says. "But we do take strong stands on issues, and we will call out politicians when they don't take what we consider to be the right stand on issues."
One might wonder how, in this divisive time in our country, Democrats and Republicans can come together and agree on an issue.
"In a country that is so increasingly divided politically, we are a third way," Isaac says. "If you strip away the rhetoric, most people want the kind of thriving, inclusive community that we advocate for. So it's a way of finding common ground."
That nonpartisan advocacy is what makes the League special: It's a multi-issue organization with a set of positions that range from the local to the national level. In Orange County, the League advocates for improvements to the juvenile justice system, restoration of voting rights for felons, the use of natural resources, fair and affordable public transportation, gun safety, solutions to public education problems, protecting women's reproductive health and more.
"We are fair, but we're fierce," Isaac says. "We're going to study the issue. ... When we take a position, we're going to advocate it with all our might."
Asked if members are worried about the new administration in the White House, Isaac admits that the League has disagreed with some of the new president's policies, like the recent executive order that temporarily banned immigration from seven predominately Muslim countries.
"I think it's reasonable to be worried, but I also think there has been a huge awakening of how important this is," she says, referring to the recent rise of protests.
The League welcomes anyone with a position they care about and is ready to give them the resources to fight for that issue. Isaac encourages anyone looking to get involved to join a committee, sign up for the newsletter, participate in a workshop or donate through the website.
"It's time for everybody to step up," she says. "We need everyone to come out and advocate for their passions." – DF
Hope CommUnity Center
In the 40 years Sister Ann Kendrick has been working to support immigrant communities in Central Florida at the Hope CommUnity Center in Apopka, this is the worst it has ever been, she says.
A sense of fear permeates the community. After the election, a group of about 100 kids who gather at the center reported racial slurs and bullying at their schools. Some people have already packed their suitcases as they anxiously wait to see what executive order President Donald Trump signs next after ordering a U.S.-Mexico border wall and threatening to take away federal funds from sanctuary cities, among other actions. Kendrick says some children have come to the center crying, including an 8-year-old boy who was afraid his undocumented mom would be deported.
"He was afraid his mother would be taken away because then who would take care of him," Kendrick says. "People ask us what we're going to do, and I tell them, 'We're doing what we always do, except the stakes are higher. We have to ratchet up.'"
Kendrick, Sister Cathy Gorman and Sister Gail Grimes came to this area in the 1970s to help farmworkers and the working poor in the community. Decades later, they have set up two centers in Apopka where they provide a litany of services, including literacy classes, GED help, school tutoring, citizenship classes, youth groups and other resources for immigrant communities.
Kendrick says now Hope CommUnity Center is working on two fronts to address what will possibly come down from the presidential administration. First, they're teaching people to know their rights when stopped by the police, and also, they're creating "safety and dignity" plans for undocumented immigrants.
"Everybody, documented or not, is being caught up in this anti-immigrant attitude and scrutiny because some see immigrants as hostile and not adding to the fabric of our country," she says. "We're teaching them how to behave if you're stopped by law enforcement, which is usually for driving without a license or can be racial profiling, and explaining to them what to say, what not to say, what can be incriminating."
The center is also helping undocumented immigrants put together "safety and dignity" plans consisting of medical records, school records, bank information, power of attorney letters, prescription information, letters from the community and other records that would be helpful to have readily at hand in case of detainment or deportation. Kendrick says community members who care can start assisting at the center by helping people put together their "safety and dignity" plans or by donating money to help a family in need. She adds that people can also help out by becoming tutors at the center and by letting the immigrant community know they have allies in the fight.
"We can help by creating community," Kendrick says. "We're a safe place where people can come and be introduced to a bigger world. Now is the time to step up." – MC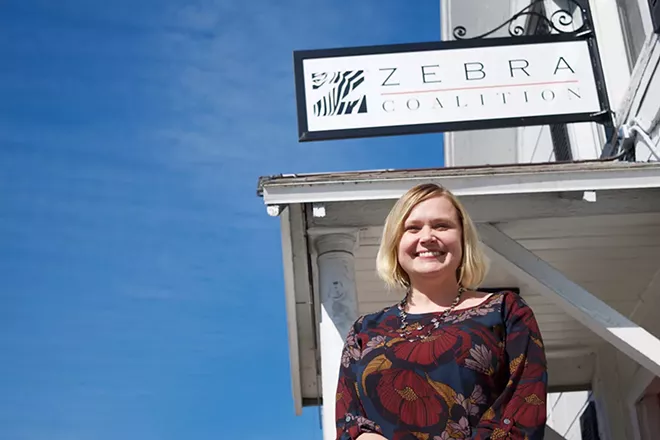 Photo by Deanna Ferrante
Heather Wilkie
Zebra Coalition
Even though the LGBT community only makes up between 10 and 12 percent of the U.S. population, LGBT youth account for 42 percent of all of the country's homeless teenagers and young adults.
In layman's terms, LGBT youth are much more likely to end up on the street than other people in their age group. But here in Orlando, unlike in a lot of other cities, a network of organizations is working to stop this epidemic. The Zebra Coalition is made up of nearly 30 Central Florida social service providers, government agencies, schools, colleges and universities that provide resources for local LGBT youth between 13 and 24 years old.
Heather Wilkie, the director of the coalition, says that the network's main mission is working to create safe spaces for these young people.
What is a safe space? "It's an ability to connect with your peers and to have a commonality in order to connect," Wilkie says. "Sometimes that's a physical space ... sometimes it's having the support of a group."
Essentially, these organizations are working to create an atmosphere where young people, many of whom face discrimination and rejection on a daily basis, feel comfortable enough to be themselves. This is funded by donations, partnerships, fundraisers events and government grants. Currently, the coalition has three government grants that help support staff and services like mental health and substance abuse counseling.
The coalition can house seven homeless young people in one family-style home and in one apartment at any given time. It recently unveiled a new rapid rehousing program that uses government money to quickly move homeless youth from the coalition's accommodations into their own new homes. The program helps them pay for rent and other needs until they can become self-sufficient. Last year, they housed 17 young adults, but with the addition of the rapid rehousing program, that number is sure to increase.
The coalition also has a drop-in center on North Mills Avenue, another safe space where students can come to receive mental health counseling, meet with case managers and celebrate milestones with friends. The drop-in center is also home to workshops and meet-ups, and Wilkie encourages anyone with a talent or professional skill to help. Anyone can volunteer to teach a workshop. In the past, community members have taught classes on résumé writing, interview skills, smoothie making and cooking.
Volunteers are always needed at fundraisers and events like Come Out With Pride. All it takes is filling out a form on the coalition's website, although all volunteers must go through a vetting process.
If you're not into the hands-on approach, Wilkie says that donations are readily accepted. The coalition even has an Amazon wish list on its website from which one can directly send whatever is needed with a few clicks of a mouse. Every little bit, from cleaning supplies to gift cards, goes to enriching the lives of these young people, a group rocked by devastating hate last year – the Pulse massacre where 49 people, many in this age group, were killed.
"It's very important for our community to have youth-supportive programs where we provide safe spaces for LGBT youth," Wilkie says. "It's never been more important, considering what happened on June 12, that we send these youth a message that they are supported." – DF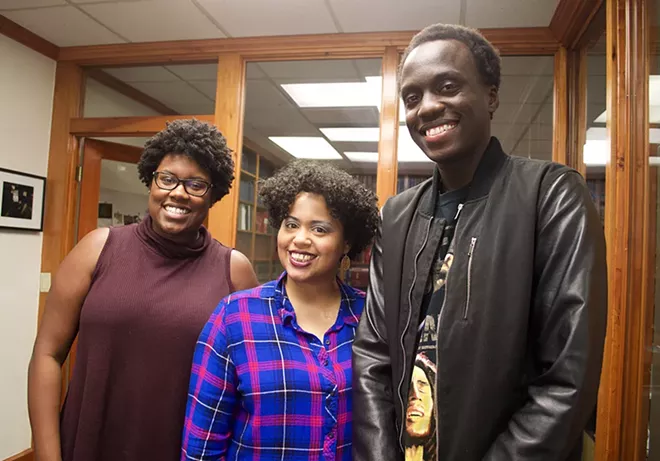 Photo by Monivette Cordeiro
Elliana Dix, Denise Diaz and Jonathan Alingo
Central Florida Jobs with Justice
The labor movement has always been a key part of the resistance in America, says Denise Díaz, and right now, organizers are preparing for a full-on attack if a fast-food chain executive takes over the federal Department of Labor.
Díaz is the executive director of Central Florida Jobs With Justice, a coalition of labor unions, community organizations, students, faith-based groups and workers that strives to build power for working people through several campaigns, such as raising wages or protecting collective bargaining. Díaz says sometimes it involves supporting farmworkers and organizing airport baggage handlers to vote on a union, while other times it's sending delegations to a work site. Right now, though, organizers are preparing their response to Trump's nominee for labor secretary: Andrew Puzder, the CEO of CKE Restaurants, which runs the Carl's Jr. and Hardee's chains. The millionaire opposes several worker protections, such as expanding overtime pay, and has complained about raising the minimum wage.
"Florida is already a right-to-work state, so the little protections workers have on the federal level, like discrimination protections, we're afraid will go away," she says. "People are not really sounding alarms for worker's rights, I think because people live it every day. But I think we're going to start seeing a lot of workers organizing and learning their rights."
Central Florida Jobs with Justice is just the place to do that, Díaz says. With a team of two other people, Díaz is trying to make sure workers know their rights and teaching activists to become organizers.
"Right now we're in crisis mode," she says. "We see emerging activists at protests, and I think we need to turn those people into organizers who can build power. You went to a protest; now how do you become someone who can lead a meeting and lead others in a protest?"
Currently, the organization is looking for volunteers to participate in actions, phone banks and protests. Central Florida Jobs With Justice also provides organizer trainings to its members, Díaz says.
"The labor movement is the resistance that keeps capital and corporations in check," she says. "Now we're seeing corporations in a place where profit comes before people. I think everyone has a stake in the labor movement being stronger, and it's been rolled back so much that we really have to do what we can to keep it intact." – MC
Planned Parenthood of Southwest and Central Florida
Most American women have grievances about the new president, but few issues are as personal as Trump's and Vice President Pence's stated intentions to obstruct women's access to basic healthcare and safe, legal abortions. On Jan. 23, Trump signed an executive action reinstating the so-called "Mexico City Policy," which cuts U.S. government funding to international non-governmental organizations that perform or discuss abortions.
The American Civil Liberties Union reports 238 abortion restrictions have been imposed at the state level since 2010, with 50 happening last year alone.
Our own local Planned Parenthood of Southwest and Central Florida refuses to cede any ground in this latest national battle, steadfastly providing women and men with reproductive health services, education, and screenings.
"Planned Parenthood is working in health centers, in state capitols, and out on the streets on behalf of reproductive health and rights," says Anna Eskamani, senior director of public affairs and communications for Planned Parenthood of Southwest and Central Florida.
PP-SWCF began operations in 1966, an affiliate of the Planned Parenthood Federation of America, Inc., which now has 22 health centers in Florida. Eskamani began in April 2012, and has become a local icon of reproductive rights advocacy, an increasingly significant part of their mission. She says there are many different ways to volunteer for Planned Parenthood, including event volunteering on April 29, when the group's Generations Gala: Orlando fundraiser will feature speakers Dahlia Lithwick of Newsweek and Slate, and Sonya Renee Taylor, founder of The Body Is Not an Apology movement.
Besides helping at events, volunteers may escort patients at health centers, perform community outreach like tabling or writing letters to legislators, or help at the office. College students can get involved through Vox, Voices for Planned Parenthood, on campus. Faith leaders and congregants who support choice can join the Interfaith Coalition for Planned Parenthood.
Planned Parenthood is also looking for some lobbying help in the form of "a new generation of leaders in the civic and legislative process." The vast majority of Americans side with personal privacy and choice, but they aren't always the voters calling legislators.
"When the legislative session is unfolding, pay attention and write and call them. That is something that almost everyone can do," says Eskamani. "You don't have to leave the house. Know your legislators and know who your state reps and senators are, not just in Congress. Sign up for a Google alert for their names, so you're the first to see it. Remember, this is a relationship." – DP
WOMEN'S RIGHTS:
National Organization of Women
Mission: Since 1966, NOW has worked through intersectional action to advance feminism, eliminate gender-based discrimination and promote equality in the lives of women and girls.
Contact: 202-628-8669; membership@flnow.org Website: now.org Best way to help: Donate or become a member on their website.
REPRODUCTIVE RIGHTS:
Planned Parenthood
Mission: To help people maintain the right to control their own sexual and reproductive health and empower them to make their own choices through medical services and education.
Contact: Call 407-246-1788 for information on Planned Parenthood of Southwest and Central Florida. Call 800-230-7526 or email info@myplannedparenthood.com for the national organization. Website: plannedparenthood.org/planned-parenthood-southwest-central-florida; plannedparenthood.org Best way to help: You can join the team or donate to the cause on their website.
The Center for Reproductive Rights
Mission: The Center for Reproductive Rights advances and champions the idea of reproductive freedom as a human right through courts around the world.
Contact: 917-637-3600; info@reprorights.org Website: reproductiverights.org Best way to help: You can donate at reproductiverights.org/about-us/donate.
National Abortion Rights Action League
Mission: NARAL Pro-Choice America is made up of women and men across the country who want to protect choice and expand reproductive freedoms, such as legal abortion.
Contact: 202-973-3000; CAN@prochoiceamerica.org Website: naral.org Best way to help: Take action by becoming a member or making donations through their website.
CRISIS HELP:
National Coalition Against Domestic Violence
Mission: NCADV works with survivors to create zero-tolerance culture for domestic violence through public policy and education.
Contact: 303-839-1852 Website: ncadv.org Best way to help: Donate online or volunteer through their website.
Rape, Abuse & Incest National Network
Mission: The nation's largest anti-sexual violence organization, RAINN assists victims in several ways, including through a 24/7 hotline, and helps prevent sexual violence through education programs.
Contact: If you need help, call the National Sexual Assault Hotline at 800-656-4673 Website: rainn.org Best way to help: Get involved in different opportunities like donating and fundraising through their website.
Proyecto Somos Orlando
Mission: Created in the aftermath of the Pulse massacre by the Hispanic Federation and other community members, Proyecto Somos Orlando addresses the long-term mental-health needs of the community by providing bilingual case management and crisis intervention.
Contact: 407-270-0597; proyectosomosorlando@gmail.com Website: somosorlando.info Best way to help: Donate on their website and contact via email for volunteer opportunities.
LGBTQIA+ RIGHTS:
GLBT Center of Central Florida
Mission: The Center seeks to empower the local LGBT community by providing information, advocacy and help through support groups, counseling and clinical services like HIV testing.
Contact: 407-228-8272 Website: thecenterorlando.org Best way to help: PayPal donations can be made through their website.
Equality Florida
Mission: Equality Florida is the largest LGBT civil rights organization in the Sunshine State that's dedicated to achieving equal rights for all, such as passing LGBT protections in cities and counties and a statewide non-discrimination law.
Contact: 813-870-3735; info@eqfl.org Website: eqfl.org Best way to help: Join the team or donate to the cause on their website.
QLatinx
Mission: Established in response to the Pulse tragedy, QLatinx creates a supportive healing space for community members directly impacted by the tragedy and elevates the Latinx voice.
Contact: info@qlantix.org Website: qlatinx.org Best way to help: You can join their mailing list their website or just reach out to them through email.
Zebra Coalition
Mission: The Zebra Coalition helps LGBTQ youth foster a sense of hope and support as they become adults. This organization provides mental health services, housing and education opportunities.
Contact: 407-228-1446; info@zebrayouth.org Website: zebrayouth.org Best way to help: You can fill out an application to volunteer on their website, where you can also donate to the cause.
Two Spirit Health Services
Mission: Two Spirit creates a place where LGBTQ can receive medical care that includes mental health care, substance abuse care and health care specific to transgender people. The employees at Two Spirit strive to understand the unique needs of LGBTQ patients.
Contact: 407-487-9868; info@twospirithealth.org Website: twospirithealth.org Best way to help: Learn more about the services provided by the center on their website, where you can also donate to help their cause.
Human Rights Campaign
Mission: As the largest civil rights organization for LGBTQ Americans, HRC focuses on ending discrimination and ensuring LGBTQ people are treated equally.
Contact: Questions and comments can be forwarded to feedback@hrc.org Website: hrc.org Best way to help: You can donate to their cause on their website.
Miracle of Love
Mission: Miracle of Love provides comprehensive HIV/AIDS care and education in the Central Florida area.
Contact: 407-843-1760; info@miracleofloveinc.org Website: miracleofloveinc.org Best way to help: You can donate directly to the website or you can send a check to Miracle of Love Inc. Attn: Accounting Dept., 741 W. Colonial Drive, Orlando, FL 32804.
Sylvia Rivera Law Project
Mission: Inspired by the civil rights legend who helped lead the 1969 Stonewall uprising, the Sylvia Rivera Law Project works to protect transgender, intersex and other gender non-conforming people from harassment and violence.
Contact: 212-337-8550, info@srlp.org Website: srlp.org Best way to help: Become a member or donate through their website.
IMMIGRANT RIGHTS:
The National Immigration Law Center
Mission: NILC legally defends the rights of low-income immigrants and their families to open the world of opportunity to everyone, regardless of race, religion, gender or immigration status.
Contact: 213-639-3900; info@nilc.org Website: nilc.org Best way to help: You can volunteer by emailing volunteer@nilc.org or donate through their website.
Hope CommUnity Center
Mission: HCC works with Central Florida's immigrant communities to empower them by advancing education and providing services to the working poor.
Contact: 407-880-4673 Website: hcc-offm.org Best way to help: You can sign up to help out or donate to the group on their website.
Florida Immigrant Coalition
Mission: A Florida-based organization made up of unions, community members, farmworkers and other advocates to advance fair conditions for immigrants' families.
Contact: 305-571-7254; info@floridaimmigrant.org Website: floridaimmigrant.org Best way to help: You can both sign up to volunteer and donate on their website.
Coalition of Immokalee Workers
Mission: CIW is a human rights organization created by the farmworker community of Immokalee, Florida. They specialize in ending human trafficking and gender-based violence in the workplace.
Contact: 239-657-8311, workers@ciw-online.org Website: ciw-online.org Best way to help: Make a monthly recurring or one-time donation through their website.
RACIAL JUSTICE:
Dream Defenders
Mission: Created after the death of Trayvon Martin, the Dream Defenders are a group of students and other young people that seek to lift communities of color through the power of organizing.
Contact: dreamdefendersorl@gmail.com Website: dreamdefenders.org Best way to help: You can sign up to volunteer or donate to the group on their website.
Campaign Zero
Mission: Campaign Zero seeks to hold police accountable by tracking police-involved deaths and changing policies to improve relationships between law enforcement and communities of color.
Contact: feedback@joincampaignzero.org Website: joincampaignzero.org Best way to help: Donate or get involved through their website.
National Action News Network
Mission: Founded by the Rev. Al Sharpton, the National Action Network is a leading civil rights organization committed to criminal justice, voter protection and anti-violence for all people regardless of race, religion, nationality and other factors.
Contact: 212-690-3070; crisis@nationalactionnetwork.net Website: nationalactionnetwork.net Best way to help: Become a member or donate through their website.
Black Youth Project
Mission: Launched in 2004, the Black Youth Project examines the lives of African American youth and creates an online resource for this demographic that empowers them.
Contact: 773-834-1706, info@blackyouthproject.com Website: blackyouthproject.com Best way to help: You can donate to their effort on their website and you can join their email list on Facebook.
National Association for the Advancement of Colored People
Mission: For more than a century, the NAACP has worked to ensure the equal political, educational, social and economic rights for everyone and to eliminate discrimination based on race.
Contact: 407-969-1549, unit5120@naacpnet.org Website: naacp.org Best way to help: Donate or become a member on their website.
Black Orlando United
Mission: Black Orlando United works to unite black communities with local business and organizations in Orlando to end violence and highlight the accomplishments of the community.
Contact: Contact through their website Website: blackorlandounited.com Best way to help: Find donation and volunteer opportunities through their website.
Parramore Kidz Zone
Mission: Created by the City of Orlando, the Parramore Kidz Zone tries to create a "level playing field" for children in Orlando's historic Parramore community by reducing juvenile crime, teen pregnancies and school dropouts.
Contact: For more information, email Adamaris.Ramirez@cityoforlando.net Website: cityoforlando.net/parramorekidzzone Best way to help: Donate through PayPal.
Mi Familia Vota
Mission: Based in several states, including Florida, Mi Familia Vota is a national civic engagement organization advocating for issues that impact the Latino community, especially immigrants and workers.
Contact: info@mifamiliavota.org Website: mifamiliavota.org Best way to help: Find volunteering opportunities in Florida on their website.
National Council of La Raza
Mission: As the largest national Hispanic civil rights organization in the United States, NCLR works to advance opportunities for Latinos.
Contact: 202-785-1670, info@nclr.org Website: nclr.org Best way to help: Donate on their website.
Black Lives Matter
Mission: While not representative of the entire "Black Lives Matter" movement, the Black Lives Matter national organization has chapters across the U.S. that work to improve the lives of black people.
Contact: blacklivesmatter.com/contact Website: blacklivesmatter.com Best way to help: Donate through their website.
CIVIL LIBERTIES/HUMAN RIGHTS:
Council on American-Islamic Relations/CAIR-Florida
Mission: CAIR is the leading civil rights organization for Muslim Americans in the United States. CAIR dedicates itself to defending the civil liberties of Muslims and non-Muslims and promoting a better understanding of Islam.
Contact: Local number is 813-514-1414. Contact national at info@fl.cair.org or 202-488-8787 Website: cairflorida.org; cair.com Best way to help: Their upcoming events as well as a link to donate can be found on their website.
Anti-Defamation League
Mission: The ADL was founded to "stop the defamation of the Jewish people and to secure justice and fair treatment to all." Primarily, this organization combats anti-Semitism and protects civil rights.
Contact: Florida number is 561-988-2900. Contact national at 212-885-7700 Website: florida.adl.org; adl.org Best way to help: Call 866-386-3235 to donate by phone or donate online.
American Civil Liberties Union
Mission: The ACLU works through the court system to defend civil and individual liberties that are guaranteed under the U.S. Constitution. The ACLU has chapters in all 50 states, including Florida.
Contact: You can request help from the ACLU of Florida at aclufl.org/get-help or call 786-363-2700 Website: aclufl.org; aclu.org Best way to help: You can join the team on the Orlando chapter's website or donate to the cause online.
Southern Poverty Law Center
Mission: The SPLC uses the law and education to battle against hate and discrimination aimed at marginalized communities. "The SPLC works toward the day when the ideals of social justice and equal opportunity will become a reality," according to their website.
Contact: 334-956-8200; webcontact@splcenter.org Website: splcenter.org Best way to help: You can donate to their cause by calling 888-414-7752 or by mailing your donation to 400 Washington Ave. Montgomery, AL 36105.
Brennan Center for Justice
Mission: This nonpartisan law and policy institute based out of New York University School of Law works to improve the system by holding institutions of power accountable on issues such as voting rights and campaign finance reform.
Contact: 646-292-8310; brennancenter@nyu.edu Website: brennancenter.org Best way to help: Donations can be made through their website.
Amnesty International
Mission: Amnesty International fights discrimination and injustice around the world. This organization monitors the state of human rights in more than 150 countries.
Contact: 212-807-8400; aimember@aiusa.org Website: amnestyusa.org Best way to help: Sign up, donate or take action through their website.
First Amendment Foundation
Mission: Based in Florida, the First Amendment Foundation provides information and help to the public and the media regarding free speech, free press and the state's Sunshine laws.
Contact: Toll-free hotline at 800-337-3518 or call 850-222-3518 Website: floridafaf.org Best way to help: Donate at floridafaf.networkforgood.com.
Florida Rights Restoration Coalition
Mission: The FRRC is a coalition of 70 organizations that seek to restore the right to vote to ex-felons in Florida that have been released, which affects about 1.6 million residents in the state.
Contact: info.frrc@gmail.com Website: facebook.com/florida-rights-restoration-coalition-307943569254319/ Best way to help: Contact them via email for more information.
Disability Rights Education and Defense Fund
Mission: DREDF is a civil rights law and policy center run by people with disabilities that advance the human rights of disabled people.
Contact: 510-644-2555, info@dredf.org Website: dredf.org Best way to help: Donate on their website through Square, PayPal, by mail or through other forms.
ORGANIZERS:
The League of Women Voters of Florida
Mission: A nonpartisan political organization, the League of Women Voters of Florida is engaged in activism on several fronts in Florida, including the battle to make congressional districts fairer. The League is currently heading the Florida Coalition to Prevent Gun Violence in an effort to reduce gun crimes and death.
Contact: 850-224-2545; lwvfexecutivedirector@gmail.com Website: thefloridavoter.org Best way to help: You can join the group or donate to the cause on their website.
Organize Florida
Mission: Organize Florida, formerly known as the Orlando-based Organize Now group, is an organization of community members dedicated to the issues of social justice for an "equal and fair Florida for all."
Contact: 407-956-0997; organizer@organizeflorida.org Website: orgfl.org Best way to help: You can both sign up to join and donate on their website.
Valencia College Peace and Justice Institute
Mission: The Peace and Justice Institute promotes harmonious values for all and seeks to engage in conversation that teach people about each other with respect.
Contact: 407-582-2291; rallen@valenciacollege.edu Website: valenciacollege.edu/pji Best way to help: Attend their events for community outreach that can be found on their Facebook page at facebook.com/valenciapeaceandjustice
Central Florida Jobs With Justice
Mission: A coalition of working people, unions, community organizations and students, Central Florida Jobs With Justice works to build power in these communities.
Contact: 407-451-2472 Website: cfjwj.org Best way to help: You can join the team or donate to the cause on their website.
ENVIRONMENTAL ADVOCATES:
Speak Up Wekiva
Mission: Speak Up Wekiva was formed to protect and conserve Wekiva River and the lands and wildlife that surround it in Central Florida.
Contact: 407-399-3228 Website: speakupwekiva.com Best way to help: Join their Facebook group to stay informed and updated about Central Florida environmental issues at facebook.com/speakupwekiva
Sierra Club
Mission: The Florida chapter of the Sierra Club has a mission to protect the natural parts of the Sunshine State and show others how to responsibly treat and use Florida's fragile environment.
Contact: Reach the Florida chapter by calling 727-824-8813 or by emailing frank.jackalone@sierraclub.org Website: sierraclub.org/florida Best way to help: Donate or take action by becoming a member through their website.