Kinda like those pumpkin-spice freaks, music fans get real tweaked starting before summer barely finishes its sizzle for fall concert announcements. As nearly unfathomable tours post their Orlando dates, it's easy to get twitchy in anticipation – Mary J. Blige owning CFE Arena; Failure, Hum and Torche coming to House of Blues on one absurdly stacked bill – but in case you've missed some of these major draws for fall, peruse our
concert listings
carefully to plan your concert season accordingly. The menu is all over the place like we like it, and unlike those one-note fanatics all about that overhyped gourd, this year's enticements have the ranging flavors of a whole Thanksgiving feast.
Oct. 11: Failure
Fall in Florida is a little too abusive to justify wearing layers even in the heart of October, but at this show, it's a stacked lineup of three essential sonic tinkerers who lay it on real thick to the constant delight of audiophiles lucky to be the smoldered pea under the gorgeous princess' mattress. The revered '90s multi-instrumentalists in Failure reunited last year and then sealed their comeback with this year's heralded release, The Heart Is a Monster. Add to it that the essential twinkling '90s space case Hum opens alongside heavy modern force Torche, and we're all doomed to be blissfully bowled over.
6:30 p.m. | House of Blues, 1490 E. Buena Vista Blvd., Lake Buena Vista | $23 | 407-934-2583 | hob.com/orlando.
Oct. 27: Pre-Pre-Fest (pictured above)
For anyone who's missing Gainesville's giant punk spectacle in the Fest or for anyone too eager to wait, Orlando throws its hat up for more Pre-Fest activities, featuring more than 20 bands across four stages at Will's Pub and St. Matthew's Tavern. Rad Florida acts featured include Look Mexico, Dikembe, Gatorface, plus some imports like Swain, Timeshares and WOAHNOWS. Bonus: Cover sets by the Pauses doing the Breeders and Teen Agers doing the Get Up Kids.
5 p.m | Will's Pub, 1042 N. Mills Ave. | St. Matthew's Tavern, 1300 N. Mills Ave. | $15 | willspub.org.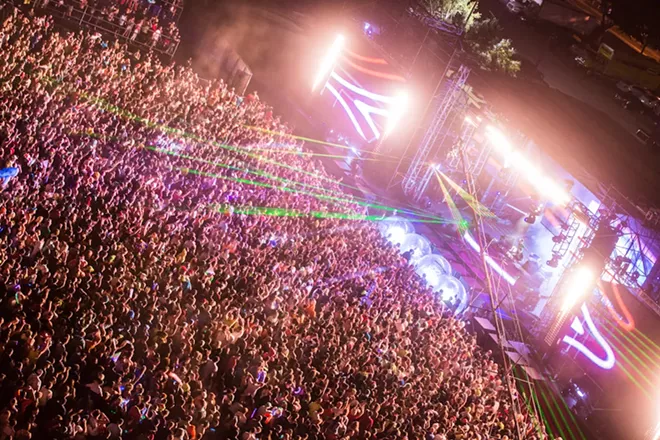 Nov. 6-7: Electric Daisy Carnival
Earlier this year, some genius compiled Instagram data and figured out that Electric Daisy Carnival was the top concert/festival for folks whose drug of choice is MDMA, with 42 percent of posts made on the social network referencing Molly. It's already a trippy carnival of beat-heavy bliss that probably doesn't need the extra chemical slick, but either way, this massive two-day maniacal sprawl is sure to make you lose your mind.
1 p.m.| Tinker Field, S. Tampa Ave. | $159-$269 | orlando.electricdaisycarnival.com.
Nov. 7: Mary J. Blige
Not to be totally stuck in the '90s, but Mary J. Blige has been blistering souls since she emerged in 1992 with What's the 411?, trouncing even the most talented artists of the time on multiple fronts with searing hip-hop soul and stunning vocal chops. Her follow-up, My Life, sealed the deal for longtime fans who have been grooving to her unmatchable and strong delivery on recent offerings The London Sessions and her surprisingly smooth original soundtrack for Think Like a Man Too.
8 p.m.| CFE Arena, 12777 Gemini Blvd. | $59-$129 | 407-823-3070 | cfearena.com.
Photo by Anthony Saint James
Nov. 14: Kink Music Festival
This massive outdoor festival at the Central Florida Fairgrounds celebrates rock and all its classic adornments, with a car show and tattoo expo alongside heavy metal, rock and punk acts like Rise Against, Atreyu and Killswitch Engage. Go bang your head while rattling around a field of hot rods, and if the spirit strikes, get new ink from some of Central Florida's favorite artists.
Noon | Central Florida Fairgrounds, 4603 W. Colonial Drive | $25-$30 | kinkmusicfestival.com.