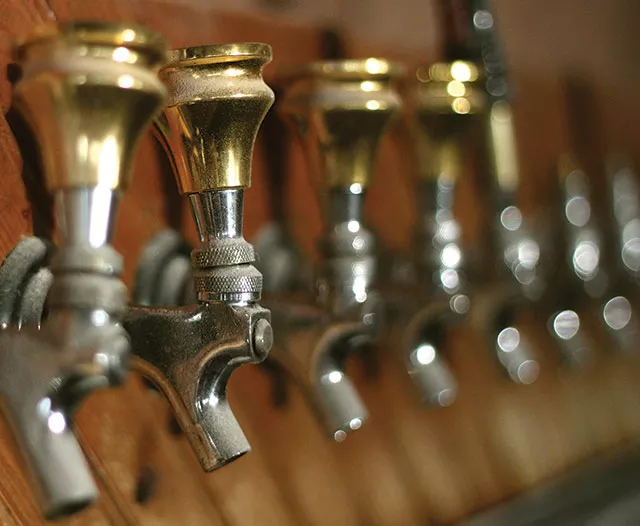 You seasoned Orlando beer drinkers think you've had everything Florida's craft movement has to offer? Think again. Here's just a smattering of the newest, craziest and most exciting batch of brews coming down the pike.
Cask and Larder Five Points Citra IPA
If Orlando has a brew guru (a brewru?), it's definitely Ron Raike of Cask and Larder. His small brewery at the back of the restaurant is like a steampunk laboratory. The many quaffable experiments Raike currently has going include a lichtenhainer, an almost forgotten German-style smoked sour ale, which in this case tastes like Lindsay Fünke's ham water (hear me out; it's really, really good). Perhaps more accessible is his Five Points Citra IPA. Brewed exclusively with citra hops – and an asinine amount of them at that – this beer is both wet hopped and dry hopped and is full of the tropical fruit flavors that make the citra hop such an enticing ingredient. Named after the intersection that Cask and Larder calls its own, this IPA is sure to become a local celebrity.
7venth Sun Or It Gets the Gose Again
Every beer geek in town wants the light of 7venth Sun Brewery in Dunedin to shine down upon them, especially since only minuscule amounts of the off-center, highly celebrated experiments these guys produce ever come to Orlando. This winter's spiced sweet potato Root Down Stout was the kind of rich, dark, decadent beer perfect for those (relatively speaking) frigid months. Or It Gets the Gose Again is the next release the brewery is so generously sharing with us out in O-Town. The gose is another obscure German sour, this one brewed with salt and coriander, and 7venth Sun includes the refreshing addition of cucumber. Don't blink or you'll miss this; the last time I saw a keg of Or It Gets the Gose Again, it was gone in under three hours. Best enjoyed while listening to the Q Lazzarus hit "Goodbye Horses."
Cigar City Dry Hopped on the High Seas
Still the big kahuna among Florida's craft brewers, Cigar City will not be outdone. Unless you've driven to their facility in Tampa and waited in line all day, you've already missed out on their award-winning, clamored-over Hunahpu's Imperial Stout, but don't fret; Cigar City always has something exciting in the works. Their Hopped on the High Seas series are IPAs brewed out of a facility in Puerto Rico and then dry hopped with a single hop varietal as the beer makes the oceanic voyage up to Florida. The last release featured the mysteriously named Hop No. 529, but as Cigar City rotates these frequently, the next batch, flavored by Kohatu hops, has already taken its place on the shelf. Don't wait to grab yourself a can, because Calypso hops are soon to follow.
Redlight Redlight Wit Riot
Having long established itself as Orlando's hub for the best selection of craft beer in the city, after nine years in the business and three successive expanded locations, Redlight Redlight is soon to unleash the next phase of its legacy. [Full disclosure: Redlight Redlight employs this writer.] Patte de Singe, a collaboration with St. Somewhere Brewing Company in Tarpon Springs, proved that Redlight Redlight's owner-founder Brent Hernandez is not only adept at acquiring the most delicious beers in the world, but he knows his way around a brew kettle as well. One of several releases Redlight Redlight has planned for its brand-new in-house microbrewery is the Wit Riot, a Belgian-style wheat beer brewed with sweet lemons from Fresh 24, a produce market that is only a few doors down from the bar on Corrine Drive. Redlight Redlight's homemade brews should be ready to pour any time in the next month or so, but the batches will be small, so an extra-watchful eye is recommended. As always, evanescence is the nature of great beer.