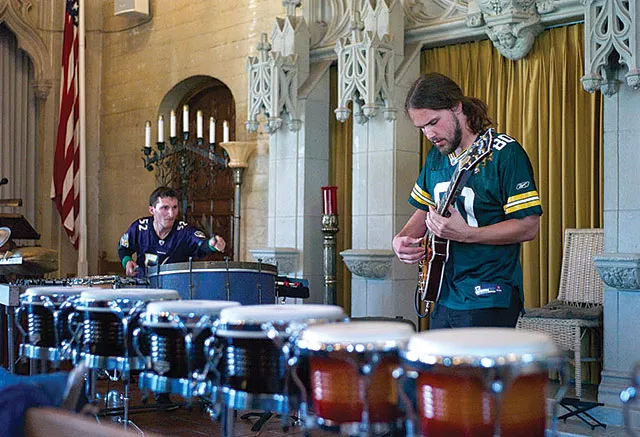 photo courtesy of Living Earth Show
Proving again that chamber music needn't be stuffy, Accidental Music Festival presents the Living Earth Show, the San Francisco-based duo of Travis John Andrews and Andy Meyerson. Modern music site I Care If You Listen called electric guitarist Andrews and percussionist Meyerson "a fully distorted perpetual motion of awesome," which is the kind of superlative you don't often hear hurled at classical musicians.
Accidental Music Festival's Christopher Belt says, "We are incredibly lucky that the show worked out with their schedule and our switch to a concert series format. These guys are trailblazers in the DIY classical scene and are working with fantastic composers." This Florida show features four pieces, all of them East Coast premieres and two of them world premieres: "The bell, the ball, the bow-tie and the boot," by Jonathan Pfeffer; "North Pacific Garbage Patch," by Damon Waitkus; "Inkless Imagination 8," by Luciano Chessa; and "Pasturing (Reprise)," by Jacob Cooper. Below, see video of the Living Earth Show performing "Drift," by Jude Traxler.