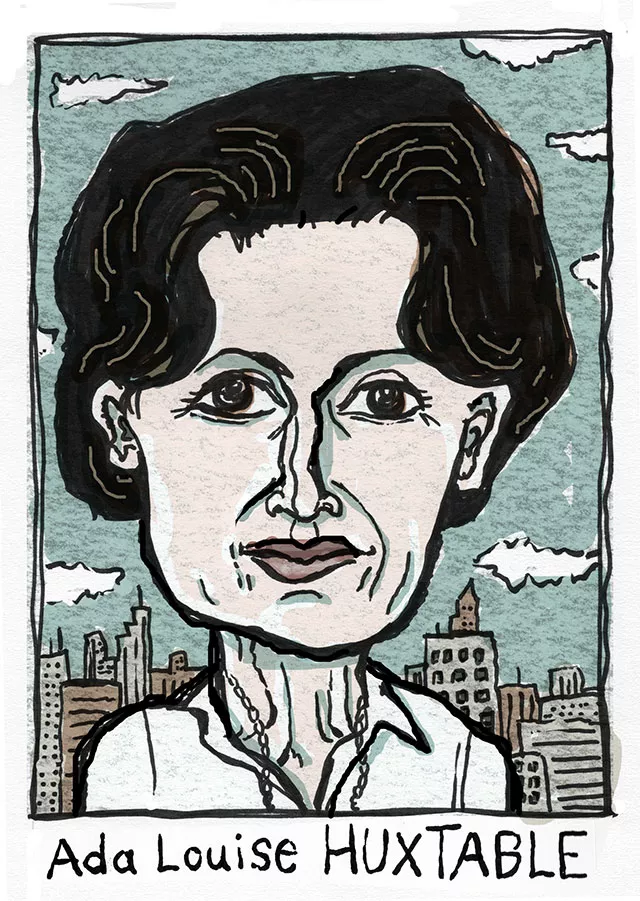 Illustration by Shan Stumpf
[As is our tradition, we've profiled some of the lesser-known individuals we lost in 2013 – people who, through their contributions to our culture, left this world a better place than they found it.]
While Ada Louise Huxtable was often called the first architecture critic, that isn't strictly true; other writers were covering new buildings in other newspapers before her. To award her with the vaunted "first" people seem to value so highly, we could say Huxtable was the first full-time architecture critic at an American newspaper, or point out that she won the first Pulitzer Prize awarded for criticism – and that, perhaps, is the crux of why Huxtable must be remembered and cherished. Criticism of architecture appeals to a fairly narrow segment of the world; readers who fall within this audience and are informed enough to compare the various critics in the field are a smaller-yet set. Huxtable's genius lies in the fact that her writing – crisp, powerful, elegant; often blistering, but always graceful – is a joy to read, whether the reader understands every reference or not. Certainly, knowing the difference between Brutalist and Beaux-Arts or a pilaster from an entablature enriches the experience, but Huxtable's clarity of language and singleness of purpose made every column illuminating.
Until Huxtable's tenure at the New York Times, coverage of architecture had mostly served as a way to flatter (or flatten) developers and city planners, a means of controlling relationships with powerful people through praise or brickbats. Obliterating lines like, "Albert Speer would have approved … The building is a national tragedy. It is a cross between a concrete candy box and a marble sarcophagus in which the art of architecture lies buried" (from Huxtable's 1971 review of the new Kennedy Center for the Performing Arts, invoking the Nazis' chief architect) made it clear her work would not take part in that cozy you-scratch-my-back-I'll-scratch-yours relationship.
Huxtable's ladylike crusade to always consider the scale and impact of a building on a streetscape – setting the experience of the pedestrian or resident above the ego of the architect, builder or bureaucrat – puts her in the company of Jane Jacobs and other visionary preservationists who wished to save the man-made environments in which we all live from the ineptitude and greed of money-making men. Her critique of the planned community of Celebration, Fla., was of a piece with her lifelong horror of the artificial.
"Private preserves of theme park and supermall increasingly substitute for nature and the public realm, while nostalgia for what never was replaces the genuine urban survival," she wrote in The Unreal America: Architecture and Illusion, an enemy of falsity and manufactured emotionality to the end.
Huxtable was 91 at the time of her death, and wrote steadily for newspapers for 49 years.