There are times when one goes to a restaurant, ingests an extraordinary dish, then spews utterances like "Oh my God!" or "Wow!" or some such thing, with an eye roll of Zimmern-ian proportions and a dazed look of wonderment. That never happened to me at Mynt, the cozy, understatedly elegant Hannibal Square Indian joint that filled the space vacated by Fresh. Mynt is a sister restaurant to Saffron, and if you've been to that Dr. Phillips eatery, you'll notice a definite parallel in their menus. Back in 2011, I spoke about the opportunity Saffron had to present the genteel denizens of Dr. Phillips with Desi fare that set itself apart from the rest, but it became clear the restaurant had no such aspirations.
Mynt has been presented with a similar opportunity, in another upwardly mobile neighborhood and, again, what we're getting is straight-up curry house fare in the guise of haute cuisine. It's not that the dishes coming from Mynt's small kitchen are subpar, but there's nothing particularly distinct, other than presentation, about the pricey fare we sampled here.
Uttapham, the popular South Indian spiced lentil-rice pancake, takes a cutesy turn in the form of sliders ($8) filled with spiced potato. But try dipping it into the scaldingly hot (microwave-hot!) sambar, or scooping coconut chutney onto these wee buggers. It's just plain impractical, and messy. Aloo tikki chat ($6), spiced potato croquettes with an almond crust, were wonderfully crisp, but the thick chickpea curry that accompanied this popular street snack was mealy to the point of being inedible. Minced chicken "silky kababs" ($10) were nice, but looked a little Spartan on their white rectangular plate, aesthetically streaked with a meager amount of chutney and served with what appeared to be a round of canned pineapple. Service note 1: When our server was in the process of setting the dish onto our table, those chicken cylinders nearly rolled right off the plate. Service note 2: Getting empty water glasses refilled required an effort on our part, not the server's.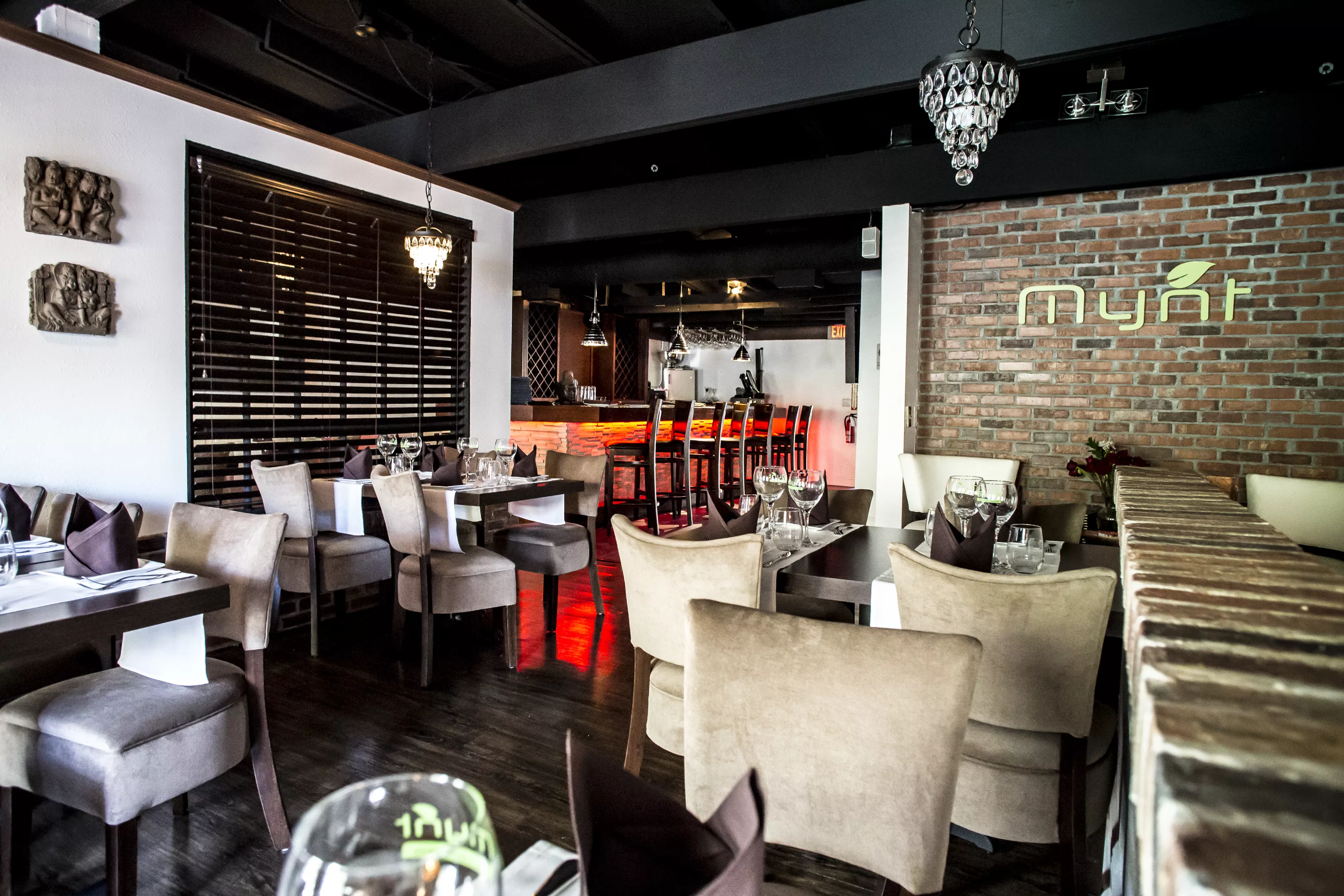 When the tandoori Cornish hen was presented, it gave rise to some happy head nods. The fiery red fowl, separated into four pieces, looked fantastic. Biting into it was another story. The flavorful (though oversalted) marinade wasn't charred onto the bird, but rather caked on. It could easily be scraped off with a fork, and it just sort of came off while we ate the bird, not a pleasing textural experience. Lacha paratha ($5), a flaky layered flatbread, was ideal for scooping creamy and subtly sweet lamb pasanda ($19), a cashew-based gravy with mostly tender chunks of lamb – one was tough and chewy. There's an adequate wine list, but only house wines are available by the glass, an issue that needs to be rectified.
For $8, we didn't get very much of an otherwise delectable kesari dhuwa, a pineapple custard topped with chocolate and artistically presented over a clear bowl filled with ice. The khulfi ($8) in strawberry, mango and pistachio flavors, however, was a total fail. Not so much for their flavor, but for their puck-sized shape and rock-hard texture. Trying to cut through the iced treats with our precious little dessert spoons resulted in the rectangular plate being knocked around and the frozen pucks nearly careening off the plate with every stab. It's fancy for the sake of being fancy, and these practically took flight. While I can appreciate the classy plating effort, it's what sits on those gleaming dishes that Mynt needs to focus in on.